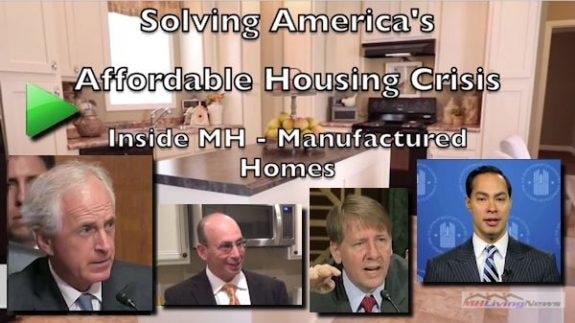 Millions of manufactured home MH owners and thousands of MH professionals are being adversely impacted by the current state of CFPB regulations. Yet the fog created by interest groups that oppose changes to Dodd-Frank or the Consumer Financial Protection Bureau (CFPB) current policies have slowed the progress in the Senate of S 682, dubbed Preserving Access to Manufactured Housing Act.
The House version of the same bill, HR 650, passed last spring with bi-partisan support.
Inside MH has produced a video that spotlights the issue, by presenting key players in Washington, DC speaking about manufactured housing and MH lending regulations in their own words. That video is found on the page linked here, which in under 2 days drew thousands of MH professionals and numerous positive reviews of the video.
A source at CFPB indicates they are considering a response to the video and the issues it raises.
The Manufactured Housing Institute (MHI), has not yet made a statement on the subject, which was produced independent of their input, but included insights from MHI members, including Sam Landy, President and CEO of UMH Properties, who is featured in the video speaking about the impact of the current regulations on home shoppers, MH owners and MH professionals.  
MH state associations and industry pros have provided positive feedback in the video, and have forwarded the link onto members, colleagues and others.  "It's a useful tool in advocacy on the policy side with Congress and the CFPB," one email to MHProNews said, with others commenting "Great video!" or "This is well done," etc.
MHLivingNews publisher L. A. 'Tony' Kovach has said this could be the first of other such videos that spotlight issues impacting manufactured housing home owners and professionals.
"We have manufactured home owners and professionals who state on camera that they want to see the unintended consequences of Dodd-Frank changed, either by the CFPB making the needed adjustments, or through enactment by the Congress of the Preserving Access to Manufactured Housing Act," Kovach told the Daily Business News.
"The United States faces an affordable housing crisis, and manufactured homes serve as a vital solution for folks of modest means," Secretary of the U.S. Department of Housing and Urban Development (HUD), Julian Castro states in this video.
That fix for the affordable housing crisis, Kovach says, doesn't cost the taxpayers money.  By using manufactured homes and removing artificial barriers caused by mistaken regulatory policies, that can save taxpayers money because some renters will opt for ownership or possibly subsidized housing. "It will take one or more videos like this to cut through the noise and fog that special interest groups have created to get S 682 through the Senate and Preserving Access to Manufactured Housing passed into law."  
Kovach suggested the best link to share the video with Congressional staff and others is the one here, on MHLivingNews, so that those who don't yet understand all the benefits and modern realities of manufactured housing can go beyond the video and learn even more. ##
(Image collage credit – Inside MH video, ManufacturedHomeLivingNews.com.)

(Article submitted by Matthew J. Silver to Daily Business News-MHProNews.