An MHMSM.com exclusive interview with Chris Olvera
1) Who, What and Where:
Chris Olvera, former editor of the venerable Manufactured Home Merchandiser Magazine and freelance writer for www.demandstudios.com, specializing in creating high-quality, reader-friendly content for the 21st century.
2) Background (brief Educational/Professional snapshot before entering the factory-built housing arena):
Graduate of Columbia College in Chicago; was associate editor of CSP, a trade magazine for convenience store owners; was editor of the Villa Park Review, a weekly community newspaper; and interned at Barfly, a bi-weekly newspaper covering Chicago's bar scene.
3) When and How: (When and how you got into the Merchandiser and the Manufactured Housing Industry)
I got into the factory-built housing industry in 1999 by applying to job for an associate editor. I showed up for an interview at the small downtown Chicago office a few minutes early and an elderly gentleman told me it was a good thing that I was early. That guy turned out to be Herb Tieder. I guess first impressions do count.
4) What are your personal interests or hobbies? How do you like to spend non-work time?
I'm a big time music geek – I love finding and listening to new music. I have an uncle who grew up on the Beatles and just stopped listening to anything else. Granted, if your one band is the Beatles, that's a pretty good choice. But I always told myself I didn't want to end up listening to same old songs over and over. I love going to independent record stores (how antiquated is that, that I call them record stores) and digging through their slots of CDs. Unfortunately, thanks to the big box stores and retail music Web sites, these record stores are becoming hard to find.
5) What do you consider the largest challenges facing the industry today?
The biggest challenge facing the factory-built housing industry today is, in my opinion, the lack of advertising. We've all heard the old "times are tough" speech, but if nobody knows you're out there, times are only going to get tougher. With people losing their homes or just having to downsize, the market is ripe for factory-built homes. But where's that message? I haven't heard it. Factory-built housing is a good product that serves a need – it's affordable. So why isn't anybody saying that?
6) In your view, what are the biggest challenges to organizations such as MHARR, MHI or state associations today?
As for the associations, they need to get the word out. I think the state associations do a better job of this, but could use the backing of MHI. I remember state associations creating DVDs showcasing the product and hearing about how they bought airtime for "infomercials." Now that's good marketing. Why the national organizations never got behind that, I don't know for sure, but I think they got too mired in the "politics as usual" scenario in D.C. I think MHI tries to please too many people. They need real leadership, someone who's not afraid to ruffle some feathers, but actually get results.
7) What do you think the broader industry can do to improve the climate for Manufactured/Modular Housing today?
Like I stated before, this industry needs to advertise. In this crumby economy, people are looking for a good deal and that's exactly what this industry offers. For the life of me, I just don't get why this isn't happening.
8) What are your thoughts on promoting an industry-wide image building campaign, ala the RV Industry's noteworthy Go RVing multi-media campaign?
The image campaign goes hand-in-hand with advertising. You're obviously not going to advertise the metal roof, rundown shacks on the side of the highway; you're going to advertise beautiful homes for a low price. I'll admit, when I got in the industry, I didn't know what a manufactured home was, I had to be told it was a "trailer." Then, when I went to Louisville, I saw what the "trailers" could look like. I thought, "Why don't people know about these 'trailers?'" That was 10 years ago and I'm pretty sure the general public still doesn't know what beautiful homes this industry is capable of producing.
9) Any Closing thoughts?
As I look to further my career in the world of publishing, I will never forget my time in the factory-built housing industry. I wish it (the Manufactured Home Merchandiser Magazine) could have lasted, but it is what it is. I made great friends in the industry and I wish you all the best of luck. ! You may need a freelance writer who knows the industry to help your firm with getting the word out in your market. Who knows what this crazy world has to offer! So, we may meet again someday, until then, Godspeed.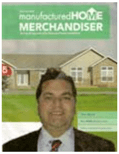 Chris Olvera served with the venerable Manufactured Home Merchandiser Magazine for a decade. Olvera took the Merchandiser in new directions, including: its first online presence, its first blogs, new formats, authors and numerous other accomplishments. Over the years, Chris became a recognized figure at many industry functions.