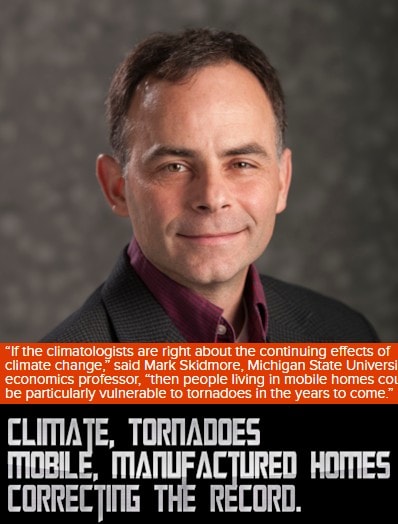 Over the years, one of the most persistent thorns in the side of manufactured housing is the topic of tornadoes.
In numerous meetings with dozens to 100 plus industry veterans in the room, L. A. 'Tony' Kovach has asked industry attendees this simple question.  "How many of you believe that media reports on tornadoes, windstorms and hurricanes harms manufactured housing sales?"
Kovach reports that without any visible exception, every hand in the room is raised, every time.
While he doesn't have time to respond to every problematic media account, Kovach picks a few to engage on.  The story below was brought to MHProNews' attention, and this past week, the publisher of MHLivingNews.com and MHProNews.com got a rather surprising, on-the-record answer.
So for those who normally skim, this isn't the time to miss the details.  Because the immediate response is promising.
While it isn't the norm for the Daily Business News to reprint an entire story, in this case, our readers and researchers may find that this study by Michigan State University (MSU) worthy of the exception. As fair use guidelines provide for this, and someone could go to their original page at this link here, let's begin with their entire story, as they published it.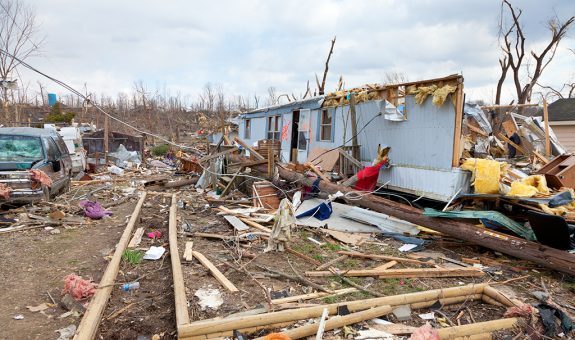 CLIMATE CHANGE, TORNADOES AND MOBILE HOMES: A DANGEROUS MIX
Contact(s): Mark Skidmore, Andy Henion
Tornadoes and mobile homes don't mix to begin with, but throw in the volatility of climate change and the potential for massive property damage and deaths is even higher in coming decades, indicates a new study by Michigan State University researchers.
The number of mobile homes in the United States has risen dramatically in the past 60 years, to about 9 million currently. Meanwhile, the U.S. is the most tornado-prone country in the world, with an average of 1,200 twisters per year, and scientists predict climate change will continue fueling more unstable weather events including tornadoes.
The annual impact of tornadoes is expected to increase threefold over the next few decades due to the "twin forces of increased climate variability and growth in the human-built environment," according to the study, which is published online in the journal Regional Science and Urban Economics.
"If the climatologists are right about the continuing effects of climate change," said Mark Skidmore, MSU economics professor and co-author of the study, "then people living in mobile homes could be particularly vulnerable to tornadoes in the years to come."
The researchers investigated underlying factors of tornado fatalities in the U.S. from 1980 to 2014. There were 2,447 tornado-related deaths during that period; the bulk occurred in the "tornado alley" region of the Midwest and Southeast.
On average, Texas has the most tornadoes annually (150) followed by Kansas (80), Oklahoma (64) and Florida (61). Florida also has the most mobile homes in the nation (849,304), followed by Texas (731,652), according to U.S. Census data.
The two biggest factors related to tornado fatalities were housing quality (measured by mobile homes as a proportion of housing units) and income level. When a tornado strikes, a county with double the number of mobile homes as a proportion of all homes will experience 62 percent more fatalities than a county with fewer mobile homes, according to the study data.
The number of mobile homes in the U.S. increased from just 315,218 in 1950 to 8.7 million in 2010 – a trend that has been driven largely by persistent income inequality, Skidmore said.
"Though mobile homes offer a relatively inexpensive but comfortable housing alternative, it appears that this trend has made the United States more vulnerable to tornadoes over time," the study says. "Given this trend and our findings, it is critical that federal, state and local policymakers consider alternatives to reduce vulnerability for those living in this type of housing arrangement."
Recommendations include requiring communal shelters in mobile home parks and eliminating the often sizable tax breaks that mobile home owners receive and directing that extra revenue toward emergency management and public safety efforts.
While tax advantages make mobile home living more attractive, they also encourage people to live in housing that is more vulnerable to tornadoes, the study notes. "The external cost of being exposed to greater tornado risks may be ignored when households choose to live in mobile homes due to affordability." ##
Co-authors are Jungmin Lim, a doctoral student, and professors Scott Loveridge and Robert Shupp, all with MSU's Department of Agricultural, Food and Resource Economics.
The chart on the U.S. Census Bureau page that their report links to looks like the following, which is a screen capture of one of the two data streams on that page.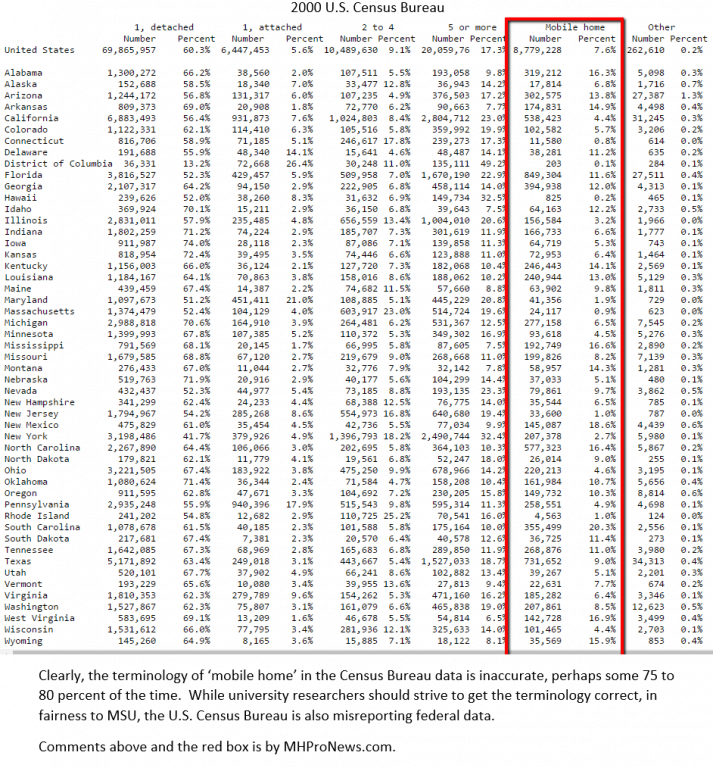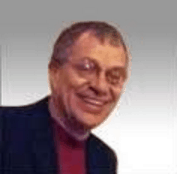 Part of Tony Kovach's message to the MSU researchers read as follows.  Note that he clearly stated in writing that he was asking for an on-the-record reply.
"Please understand that while we are obviously pro industry, we are also pro-truth. Unless your published information has details that debunk the facts presented on the links above, I'm concerned that your study may harm millions of Americans at the very time that affordable quality housing is in such great need. 
Kindly advise your thoughts, per the above and thank you.  Respectfully,
Tony"

L. A. 'Tony' Kovach
Publisher
MHLivingNews.com | MHProNews.com | Office 863-213-4090 |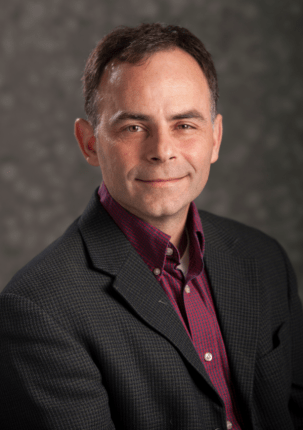 Mark Skidmore, from the MSU Department of Agricultural, Food and Resource Economics, promptly replied to Tony as follows.
Hello Tony,
Here is the copy of the full study.  For clarity, my coauthors and I are not against mobile homes.  I in fact think they offer good quality housing at an affordable price. 
My father lives in a manufacture home, and my first home was a manufactured home (though we set it on a foundation).
The second attachment contains a forthcoming book chapter about mobile homes that illustrates this point.  For me, it is more about ways to make mobile homes more resilient to high wind events and other disasters…I am not an expert on that…perhaps some of the considerations you highlight are great suggestions. 
Also, my coauthors and I are not climatologists…we relied on the research of others regarding the potential increase in frequency and severity of intense storms.  I have taught economic modelling to graduate students and had an interest in helping students think about how to link economic models to climate models in order to evaluate how potential changes in climate might affect economic activity.  But I had difficulty understanding the distinctions between climate models the forecast increases in temperature, severity of storms, etc. resulting from human activity and research that suggested otherwise…I just didn't have the needed background to tell the difference. 
However, I think it is fair to say that a majority of climate scientists believe the earth is warming and that storms are likely to be more severe.  Time will tell whether they are correct. 
I will also say that we stand by our research:  Controlling for a range of other factors that determine tornado fatalities, the percentage of mobile home in a county is probably the most important factor. 
I am happy to talk with you or correspond with further if that is helpful.
Best regards,
Mark Skidmore
Kovach thanked Skidmore, and part of his reply read as follows.
Mark,
One more question, if you happen to know the answer?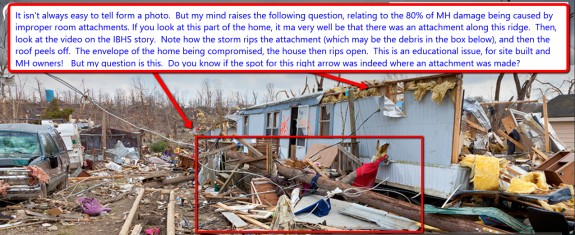 Mark, if you have a reply to the above, that's welcome. Again, note how the home below rolled, but was not ripped open?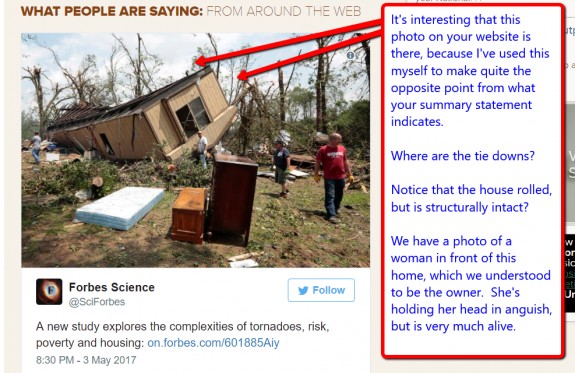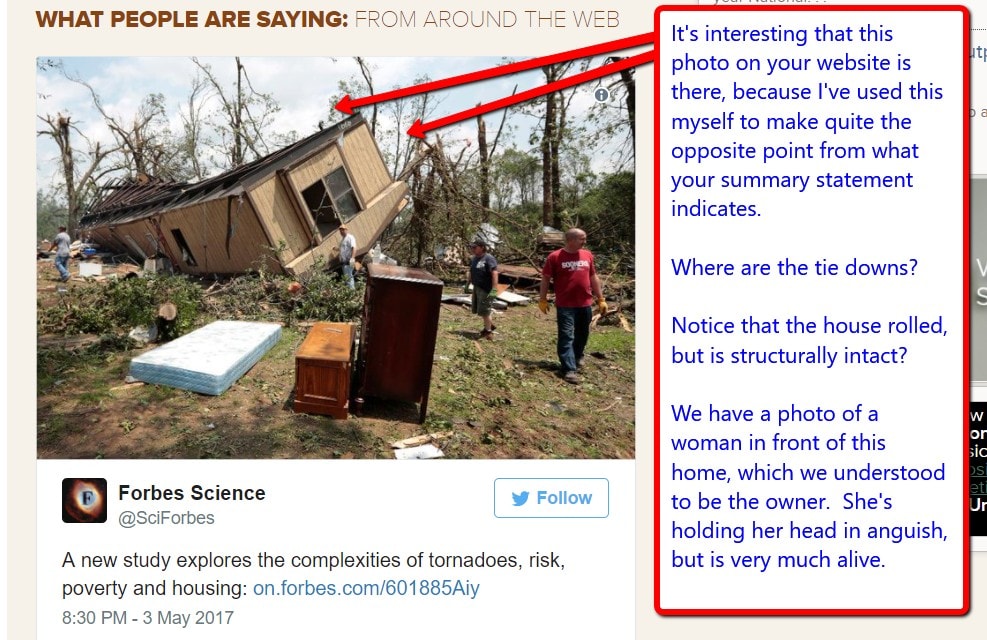 Mark,
One more question, if you happen to know the answer?
Feedback welcome.
Last thought for now.  I'm happy to build bridges.  That's what the search for truth among open minded people leads to.
https://www.manufacturedhomelivingnews.com/nbc-news-today-show-manufactured-home-performs-better-than-conventional-housing-construction-in-ibhs-hurricane-wind-tests/
Sorry, missed including the link, the full NBC video is on the page above.
Tony
The above queries have not as of publication time received a reply.  But MHProNews will gladly share the MSU follow up.
Once is Not Enough

RC Williams raised an important point in one of his recent Daily Business News articles.  There's a steady stream of stories every day about fires, or 'mobile home parks (sic),' NIMBY, and a host of other issues – including windstorms. Several windstorm stories occurred in May alone, that involved mobile and manufactured homes. One answer, one time is clearly not enough.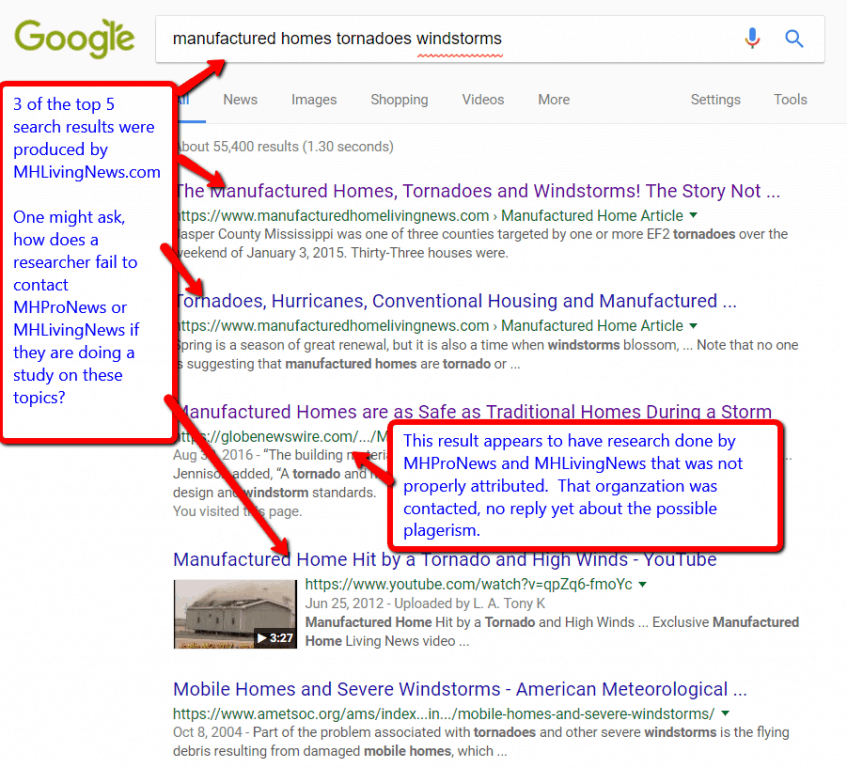 In the ideal, each and every one of these problematic stories or reports that can be misconstrued ought to be publicly addressed.  Once that occurs, watch manufactured home owners' pride rise, watch resale values go up, and watch new manufactured home sales rise.
Note that the Daily Business News respects the fact that MSU's response was rapid, polite and open to further discussions and exploration of the evidence. That's to be commended.  So, some of these comments should not be construed as targeting them.
Certainly, any premature or avoidable loss of life is tragic. But problematic scientific and weather reports all-too-often hype the reality. Here's the reality, as shared" by publisher Kovach.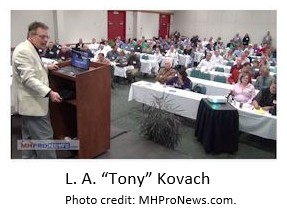 "In 2016, NOAA Reported 12 deaths in what it calls "mobile homes." That's a 0.00000055% chance of dying in a tornado for the year. To rephrase, the odds were 1.833,333 to 1 in your favor that you wouldn't die in a mobile or manufactured home in 2016.
Imagine if you could go to Las Vegas and get 1.833 million to one odds on your favor.  Vegas would go broke in a day.  That's one of the safest bets imaginable.
Should there be tornado safety promotion?  Yes.  Are there safeguards that professional and consumers should promote and practice?  Yes.  But as things stand at this very moment, you're at greater risk of dying in your bathtub by a factor of 70 than you are in dying in a mobile or manufactured home."
In this case, the terms mobile and manufactured homes are both used, because the data, sadly, doesn't distinguish between the two.
Samples of Other Industry Feedback on the MSU Study, Received by MHProNews

"Regarding the study from MSU, I found the argument less than compelling.
In the state of Florida, it is my understanding that tie-down requirements are quite stringent for mobile homes. After 2005, tie downs had to be effective for winds of 110 mph. 
Tornadoes are dangerous to anything in their path, and always have been, regardless of the current political discussion about the causes of climate change.  A palatial mansion in the path of a tornado will suffer damage, as will a small storage shed."  
It should be noted that Blaquiere's property is almost all pre-HUD Code mobile homes, so the terminology she is using is quite correct. Jay Hamilton, from the Georgia Manufactured Housing Association (GMHA) shared these thoughts.
"No home can withstand winds that exceed 175 miles per hour. Unfortunately, Manufactured Housing is what the media likes to capture on camera.

In January of 2017 in Albany, Georgia local media had to cut through the back yard of a brick home laying in a pile to get to the M/H Community that had two demolished homes from multiple tornadoes. The brick home that lay in a pile was never filmed once during the dozens of trips the local media made through the back yard of this home. The two demolished homes were filmed a dozen times and of course picked up by the AP. In one or more of these cases, the house was a pre-HUD Code mobile home, not a manufactured home.
The media forgets to include the fact that most of those pre-HUD Code mobile homes are not tied down. The media also forgets to inform the public when you attach a three-car garage to any home with lag bolts, and don't anchor or secure the addition to its foundation, you can expect to have wind damage to any building.
In summary, any type of structure that has not been secured to its foundation will incur wind damage and any building that has an addition that is not secured to a foundation will incur wind damage. Unfortunately, our industry has housing units in the field that were built prior to 1976 (prior to the HUD Code) when securing the home to a foundation was not properly enforced. We have and will continue to be tireless in our efforts to replace these units with newer models of manufactured homes that are properly installed, and counties and states continue to educate the residents that remain in these homes on proper installation.
As it relates to wind speeds that exceed 150 miles per hour, any type of structure ever built can expect some damage from a direct hit."
MHLivingNews and MHProNews will examine in more detail one of several overlooked points that researchers and media routinely miss.  Numerous industry professionals have linked up the page below, that includes the video that follows.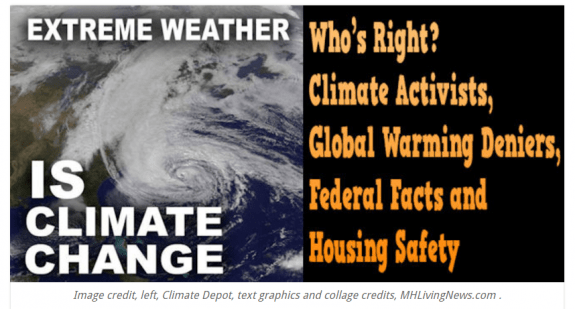 Look for that report, because it has the potential for changing the entire discussion on manufactured housing and how weather reports are being done.  Until then, media and others are cautious about terminology, because as Hamilton pointed out, mobile homes were not built to the same standards as today's manufactured homes.
Media, researchers and public officials are also cautioned because skewing the facts can harm the values of millions of home owners, and can impact manufactured housing sales at the prime time that quality affordable housing is needed. ##  (Report & Analysis)
(Update at 11:03 PM ET 6.6.2017, as promised: from Mark Skidmore to MHProNews, today, after reading the above: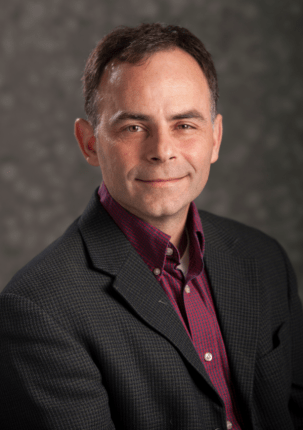 "I don't have a problem with what you included from me. That is fine…"
Skidmore then asked questions about how much we studied his research. MHProNews.com addressed that in follow ups to him, which we will update readers with.
Skidmore concluded with the following:
"Again, I think the benefits of manufactured homes are great…I see them as filling an important niche in the housing market (as highlighted in the book chapter I forwarded).  Still, is it possible we could do better?  A high proportion of tornado fatalities are connected to mobile home living, and it isn't just our research.  Does it make sense to look at this more carefully and see if we can do better?  Maybe it's just the older mobile homes.  Or maybe its improper tie downs.  Or maybe is the improper additions you highlighted.  Certainly there is variability in quality of manufactured housing…I'd be quite happy to live in some but others are shoddy.  Perhaps additional analysis could help zero in on what is happening?? 
Manufactured housing has come a long way while at the same time maintaining affordability…but isn't there room for further improvement?
Mark"
MHProNews note to readers: This is a valid and promising discussion.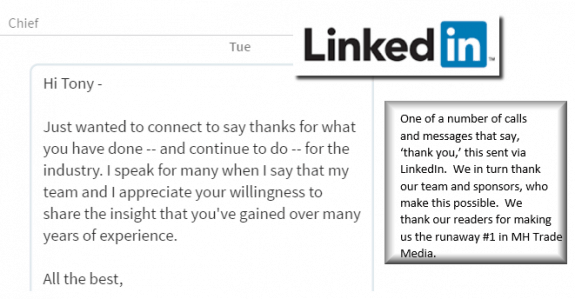 Our follow up questions to Mark Skidmore focused on areas that we believe were overlooked that contribute to fatalities, which his own response above suggests too.  Once those new questions from MHProNews are responded to in detail, they will be shared with our readers. ### 

(Image credits are as shown above.)
Submitted by Matthew Silver, Daily Business News, MHProNews.com