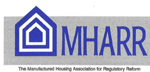 Attached for your information is a copy of a self-explanatory April 17, 2012 joint letter from the Chairmen of the Financial Services Committee and the Housing, Insurance and Community Development Subcommittee to HUD Secretary Shawn Donovan seeking specific follow-up from the Department as a consequence of the February 1, 2012 oversight hearing on HUD's implementation of the Manufactured Housing Improvement Act of 2000.
The letter is significant for the industry and for MHARR's continuing efforts — in Congress and with HUD — for several reasons.  First, it is a tangible expression of Congress' dissatisfaction with HUD's failure to fully and properly implement the 2000 law, as documented at the February 1, 2012 oversight hearing. The letter is a clear indication to HUD, the program management and regulators that the oversight hearing was not only not the end of this matter, but that Congress is serious about compliance with all of the reform provisions of the 2000 law that finally would definitively and officially identify manufactured homes as "housing" for all purposes.
Second, and closely related to the point above, even though this initial follow-up letter is primarily focused on one aspect of the 2000 law (namely standards) which was highlighted during the hearing, it indicates Congress' willingness to engage in follow-up and further oversight regarding other aspects of the program (particularly regulation) based on evidence presented at the February 1, 2012 hearing.  MHARR has sought and encouraged this initial follow-up and will now work to continue and expand congressional scrutiny of the federal program.
Third, by placing HUD management and regulators on notice of continuing congressional oversight of the program and its activities, particularly its compliance with the 2000 law, this action by Congress – as MHARR had planned and intended — dovetails with ongoing and upcoming activity by MHARR to press HUD on major 2000 law compliance issues both administratively and on other fronts, as explained and discussed at the MHARR Tunica Board of Directors meeting. As MHARR has consistently maintained, congressional oversight is necessary to fully document HUD's non-compliance with key reform provisions of the 2000 law and provide the foundation needed to initiate other fronts.
We will continue to keep you updated on this matter as new developments unfold.