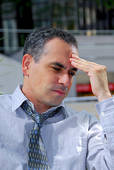 Consumers growing pessimism about the economy is beginning to affect the housing market, reports nationalmortgagenews. In a monthly survey conducted by Fannie Mae, the GSE's Home Purchase Sentiment Index fell 2.5 points from Feb. to 80.2 in March, the lowest reading in the past 18 months.
The survey revealed the share of consumers who stated their income was substantially higher than one year ago fell four percentage points to 11 percent.
Consumers feel less secure in their jobs than one year ago, MHProNews has learned. The survey indicated the number of respondents who said their confidence about not losing their job fell 7 percentage points to 68%.
The number of respondents who said now is a good time to buy a house slipped 2%; those who said now is a good time to sell a house dropped by 8 percentage points to negative 1%.
Doug Duncan, Fannie Mae's chief economist, said in a news release, "The gap between the share of consumers who think the economy is on the wrong track and the share who think it is on the right track has widened, nearly matching its reading last August, when concerns regarding China and oil prices led to the biggest stock market plunge in years." ##
(Photo credit: fotosearch–worried man)

Article submitted by Matthew J. Silver to Daily Business News-MHProNews.