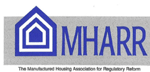 MHARR and the Manufactured Housing Institute (MHI) acting jointly as The Coalition to Advance Manufactured Housing (Coalition), held a conference call on November 22, 2011 with FHA Commissioner Carol Galante and other HUD officials. The purpose of call was to follow-up on the three specific agreed issues (i.e., easing FHA Title I securitization requirements and expanding the pool of authorized loan originators; the appointment of an acceptable non-career program administrator; and appointment of MHARR and MHI staff members to the MHCC to re-establish collective industry representation) addressed by MHARR and MHI at a joint meeting with Commissioner Galante on September 22, 2011, as further detailed in An October 7, 2011 Coalition letter to the Commissioner. Participants in the 30-minute conference call included Commissioner Galante, Nathan Schultz (HUD), HUD program manager Henry Czauski and staff from both MHARR and MHI.
With regard to easing GNMA securitization requirements for FHA Title I loans, the Commissioner stated that the current highly restrictive GNMA criteria were a product of "the perception" that such loans under-perform, even though the only hard data regarding such loans dates back to the 1980s and 1990s. The Commissioner further stated that without specific data to support the case for easing those criteria, GNMA will not change its position, while conceding that she "didn't know" exactly how GNMA had drawn its conclusions. Asked what HUD/FHA could do to help provide more recent and relevant data, the Commissioner indicated that available HUD/FHA data was not "good" – i.e., complete or up-to-date — and that the "coding" of FHA data was such that specific information relating to HUD Code manufactured home loans could not be readily extracted. MHI then stated that it had already provided "everything it had."
MHARR stressed that the unintended consequence of the restrictive GNMA securitization criteria is a de facto "monopolization" of manufactured home financing by one or two companies. This has severely impacted the industry and consumers of affordable housing, through a lack of financing choices and meaningful competition, and is not acceptable, as it contradicts the entire mission and objective of FHA and federal housing policy.
Ultimately, the Commissioner agreed to "work with" the Coalition in an effort to "dig" for more recent and relevant data and develop better data going forward, to bring to GNMA.
Regarding a non-career program administrator, the Commissioner stated that while she" understands" the need for a better policy focus on manufactured housing and is doing "everything she can" to improve that focus, there "is no plan" to appoint a non-career administrator for manufactured housing, and HUD does not believe that it is required to do so.
MHARR, once again, reiterated its position – as it did at the September 22, 2011 meeting — that the 2000 law is very clear on this issue, notwithstanding previous HUD "interpretations." The Commissioner stated that she is "not trying to re-write the law," but that at a time of tight budgets, with requests and demands for appointed officials in other areas, HUD could not and would not appoint an administrator for manufactured housing. Instead, she stated that she and the current career program manager would "do their best" to involve manufactured housing at the policy level at HUD.
Regarding the appointment of MHARR and MHI staff members to the MHCC to restore the collective representation of the industry, this issue was initially addressed by Mr. Czauski. He stated that MHCC membership applications – including applications from Mark Weiss (MHARR) and Lois Starkey (MHI) — had been received and were being processed by the program, which would provide recommendations for appointments to Commissioner Galante by the end of December 2011. Asked by Mr. Czauski if there were any concerns regarding the appointment process, MHARR explained that the Association has multiple problems with the composition of the MHCC, and other MHCC matters, including HUD restrictions that have severely diminished its role, independence and authority, which MHARR will address directly with HUD outside of the three Coalition-agreed items. MHARR stressed, however, that both MHARR and MHI agree that a staff member from each organization must be appointed as voting MHCC members to be able to participate fully in all MHCC proceedings and restore the balance required by law. The Commissioner did not offer any comment – either way – on the appointment of collective industry representatives at the conclusion of this discussion.
With these Coalition-agreed items at their current stage, MHARR will now move to advane, administratively, the key issues with HUD that were addressed at the recent Board of Directors meeting, while continuing to examine and develop the legal aspects of these matters.
Manufactured Housing Association for Regulatory Reform