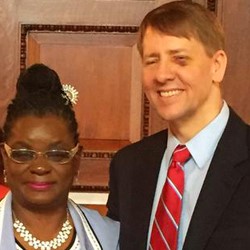 On January 29, the CFPB proposed raising the threshold for small and rural lenders. This action will allow more institutions to make qualified mortgage loans without having to meet certain requirements required of larger lenders.
At a town hall meeting organized by the National Credit Union Administration on Tuesday, February 10, Consumer Financial Protection Bureau Director Richard Cordray discussed the new changes coming up. He revealed that the decision to ease qualified mortgage restrictions for small and rural lenders had caused some internal disagreements in his organization on how the CFPB should make changes to the QM rule to help smaller institutions.
CFPB Director Richard Cordray and U.S. Rep. Gwen Moore (D-Wis.)
Cordray, who noted that his Ohio home would be considered rural under the plan, said despite the initial internal pushback, he thought the reasoning to expand what qualifies as "rural" was "quite justified."
National Mortgage News tells MHProNews that Cordray explained that the proposal would cover about 22% of the population. This figure is almost 10 times the initial proposal from the Federal Reserve Board (before rule-writing power was transferred to the CFPB) and up from the 9.9% of the population that the existing rule covers.
"This was a matter of debate within the bureau," he said, "but I ultimately believed and concluded that we had initially drawn the line too narrowly. I felt that we should allow more latitude to the small creditors to give them some breathing room, maybe some room to grow."
He added that the agency is working "on debt collection rules, overdraft, and a variety of other things."
As for the shiner under his left eye, Cordray kicked off the session by explaining that he sustained the temporary black eye at a basketball game. ##
(Photo Credit: Rep. Gwen Moore / Twitter)
Article submitted by Sandra Lane to – Daily Business News – MHProNews.