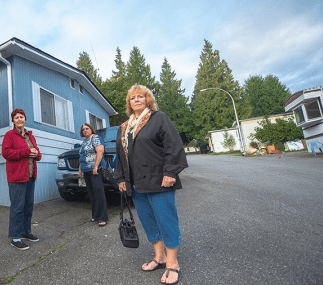 The Surrey Manufactured Homeowners Association in Surrey, British Columbia, Canada wants the city council to better protect owners of manufactured homes (MH) and provide more rights. Specifically, as nownewspaper tells MHProNews, the association wants more remuneration for residents when communities close and standards created for management upkeep of communities.
The provincial government has authority over much of the operations of MHCs, but the association, noting there are 3,000 voters living in manufactured homes in Surrey, is issuing a veiled threat as it asks for the local jurisdiction to address their concerns right before an election.
The association claims the four to five percent annual increase in rents is squeezing many residents, especially seniors, and they want a staff member assigned from the government to help them make the changes.
Currently, when an MHC is sold for redevelopment, the provincial Manufactured Home Park Tenancy Act requires community owners to compensate those being forced to move 12 months of rent. The association says that's insufficient because it can cost up to $8,000 to move an MH, and there are few options to move to.
One resident and association member, Kandas Hufsmith, saying she hopes more MHCs are developed in Surrey, says there are many positive aspects to the lifestyle. "I like the fact that I have nobody underneath me, nobody above me, and nobody touching the walls beside me or behind me. That was one of the reasons why we chose it. We purchased ours for $18,000 and fixed it up and it's our home," she said.
While the association is attracting media attention with its demands, based upon surveys done in the U.S. by Foremost and others, MHProNews  understands that the odds are excellent that many residents beyond this one enjoying living their life at the MHC. ##
(Editor's note, related story in Canada at this link.)
(Photo credit: TheNowNewspaper)

(Submitted by Matthew J. Silver to Daily Business News – MHProNews.com)