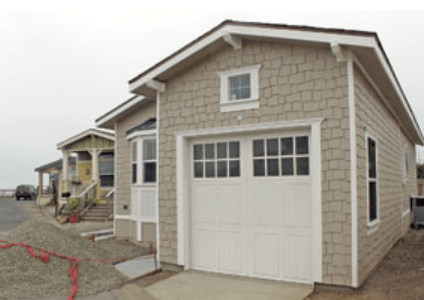 The San Mateo County Board of Supervisors in California adopted an temporary urgency ordinance to prevent eight manufactured home communities (MHCs) from closing or converting for the next 45 days in an attempt to keep affordable housing available in the Bay Area. The Bay Area is one of the most expensive housing regions in the nation.
The initiative was spurred by the Carlyle Group's acquiring an interest in Pacific Skies Estates, an MHC overlooking the Pacific where Carlyle intends to site luxury manufactured homes, as MHProNews reported Sept. 22, 2015.
According to a report by County Manager John Maltbie, the ban on the unincorporated areas of the county could extend for two years in order for staff to develop logistics for relocating MHC residents. While state law requires community owners to submit relocation impact reports to municipalities prior to closing, the condition of the home and the reluctance of some communities to accept older homes can stand in the way of relocation efforts.
The eight communities have 850 home sites but only 350 are occupied by MH. Recreational vehicles (RVs) occupy a number of the sites, according to smdailyjournal, but there are long waiting lists for communities that accept them. They would be covered by the moratorium as well. MHCs in San Mateo County are also covered by rent control.
Housing attorney Daniel Saver, with Community Legal Services of East Palo Alto, noting the importance of being proactive in such situations, said, "This is a potential threat to affordable housing and could be a displacement disaster. It's good to address this in advance." ##
(Photo credit: smdailyjournal–San Mateo County manufactured home community)

Article submitted by Matthew J. Silver to Daily business News-MHProNews.