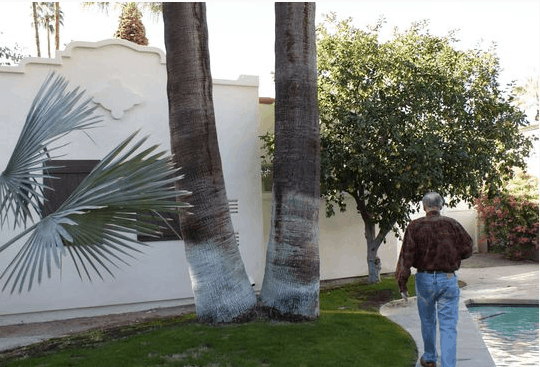 The so-called "tiny home" movement has received quite a bit of coverage, both good and bad. Some call them sustainable and affordable, while others say that they are an impractical, illegal and an ineffective solution. Nevertheless, the media tends to love tiny houses.
In Palm Springs, California, realtor Paul Kaplan and property flipper Mark Green believe they have the perfect solution: sell factory built homes that are larger than common 200 (+/-) square foot tiny houses, but are still under 1,000 square feet.
According to the Desert Sun, the Paul Kaplan Group has received growing interest in a "micro home" community in the Palm Canyon Mobile Club, a long-standing manufactured home community in the Twin Palms neighborhood.
The plan is to fill the old "mobile home park" with about 100 vacant lots with smaller manufactured homes.
"The houses will start at about 600 square feet on 2,600-square-foot lots, which will include fenced yards, carports and decks," said Kaplan.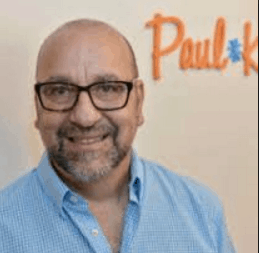 "Prices for the one-and two-bedroom models will start under $150,000."
The Kaplan Group has partnered with developers Ravinia Communities and Goetz Ventures on designing the homes, with high ceilings, carports and other amenities. Kaplan also confirmed that the homes could be moved.
"The real 'tiny homes' are about 200 square feet, but we thought, that's not livable," said Kaplan.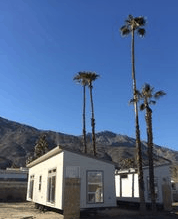 "It is an alternative for someone, people in my generation, I'm in my 50s, I just want to downsize, I want to get rid of the big house. This is a great place in Palm Springs, you're not sharing walls, brand-new, indoor-outdoor living, the location is phenomenal… and there's a really nice community created in a mobile-home [sic] environment where you do know your neighbors."
There are about 100 existing homes that will remain in the community.  These, per the report, are mostly multi-sectional – but are what they identified with the dated term "double-wides."
Kaplan plans to have a model home open next month and 10 homes for sale this year.
Already in Action
In nearby Palm Desert, Mark Green already resides in his "micro home."
Green says that he realized several years ago that he didn't use most of his 2,500-square-foot house in South Palm Desert, so he worked with a designer and created a guesthouse.
Green now lives in the 422-square-foot space and is renting his main house for about $2,500 per month.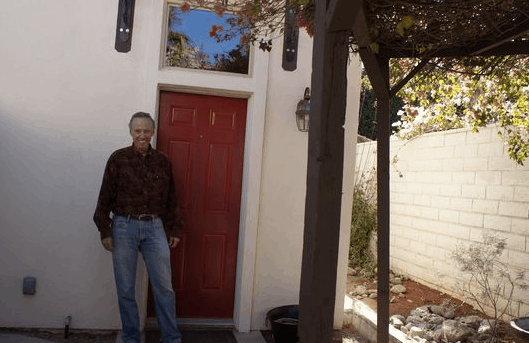 "We have to have something that is not quite so 'tiny,' but allows homeowners like myself to maximize the value of the property by doing something smart," said Green.
"It's very cozy, it's very comfortable, of course it's new, I like living here as much as when I lived in the big house… (which) has become a source of income for me."
Green's company, Guest House Advantage, offers guesthouses starting just under $80,000.
To bypass potential challenges and comply with city codes, Green says that they likely can't be built on lots smaller than 7,500 square feet.
Several cities in the area have zoning codes that include minimum square-footage requirements for freestanding homes.
Kaplan's Micro Homes are manufactured homes on existing manufactured-home community lots, and Green's are considered guesthouses or "casitas."
While he hasn't built one for a client yet, Green's hook to potential buyers is versatility with the homes as long or short-term rentals, suites for extended family or options for downsizing.
"I realized you don't need a big house to be really comfortable," Green said. ##
(Image credits are as shown above.)

Submitted by RC Williams to the Daily Business News for MHProNews.