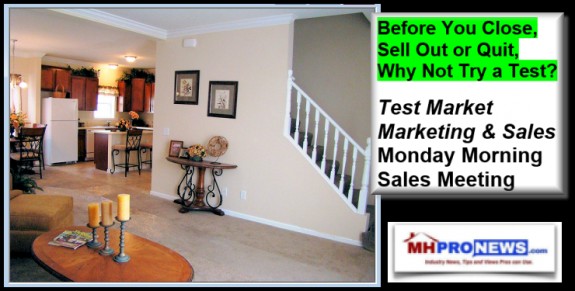 Who does the better job selling? A smart person, or the simpleton?
As with many situations, that depends on the details. An example will clarify.
When the wise are using their wisdom to objectively test, analyze, refine and improve, those may lead to superior results.
But let's imagine the case of a very simple-minded person, who learns something that works. It works routinely. It works often enough, where you get all the business that you need. They learn that, and in a simplistic fashion, I've seen locations where a simple program outperformed far more complex ones.
That may not seem like it ties into the headline theme, but it absolutely does.
Because tests all come down to people, how they are coached, motivated, trained or retrained. In our marketing, coaching and consulting work, we've seen previously failing sales pros who get retrained, and then soar in their results.
It can all be part of a broader test…

'Test Market' Marketing and Selling
There are some who don't understand that a test marketing project can produce relevant information, even when the project itself doesn't appear to be successful.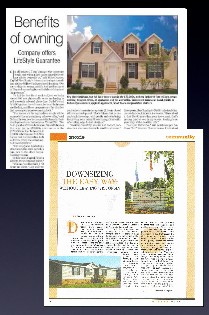 Some people need results, and need them fast.
But others – billionaires like Warren Buffett – have a long-time horizon.  They can and do see and do things differently.
When a company and/or organization has a multi-year horizon – 5 years, 10 years or longer – any accurate data could prove to be useful to them at some point.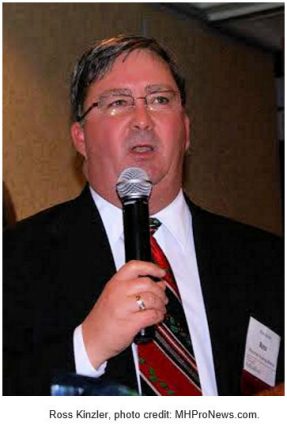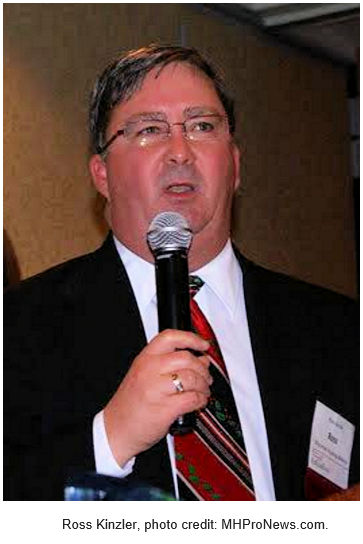 Meanwhile, what may have looked to outsiders like an effort to accomplish Result A, could in fact have had a different desired outcome entirely. A public test-marketing effort may or may not have as its actual goal, the publicly stated goal.
Another possibility is that a test marketing project's stated goal was accurately, but failed to achieve its desired outcome.
Now-retired Wisconsin Housing Alliance (WHA) executive director Ross Kinzler raised such a point that is referenced in the article linked below.
Kinzler's point is noteworthy, because while the Urban Design Project he cited failed to move the market, this writer and our team worked on a marketing project that did something similar in a major urban metro that was successful.  Note: we're mentioning the above from a purely marketing and results perspective, not one related to industry politics.
" I have no comment on MHI's legislative agenda." – Ross Kinzler. " The [MHI] Urban Design Project didn't have any lasting market effects." – Ross Kinzler Priceless, direct quotes. Why Priceless? They are significant observations – and de facto admissions – by someone 'defending' MHI, and their 'new class' of manufactured homes.
Among the lessons from the Urban Project lesson linked above is this.
The bigger organization doesn't always get the better objective result in test marketing.
We've taken small-to-mid-size operations, and taught them how to outperform far bigger and more successful ones.  We've done that with communities, retail, HUD and modular producers and financial services companies too.

Testing and Improving, Before Selling, Firing or Closing
Let's say you have 10 locations. 8 are profitable, 2 are not.
In MH Retail, there are those who after a sustained period of losing money, understandably close or sell such a money-draining sales center. Taking Kevin Clayton and Berkshire Hathaway at their word, they've closed about 100 sales centers in recent years.
Each such retail sales center closure can be costly, amounting to several hundred thousand dollars per 'dealership.'
But before you shut a retail location down (because it can cost big bucks),
or before you sell out for less than what a profitable center is worth – why not use that as an opportunity to test something brand new?
The worst that happens is that you test something that may not work for you.  The investment by comparison is minimal.
But the upside is, you may not only avoid losing money, plus take a losing center and turn it into a profitable one.
The good news is that for those who listen and do what's suggested, the batting average is amazing, as some quotes on this column reflect.
When we do projects for larger operations, we often suggest taking 2 or 3 locations that are way behind the others in performance. As a consultant, you can't make a client do anything.  Clients are free to listen to what they want, and ignore what they want. But for those who listen and do such a test with us, the results can be impressive. Sales can profitably rise several hundred percent.  That's happened in '1 to 5 star' types of locations.
By the way, we routinely do confidentiality agreements in such cases.  We only publicize results after X years, unless the client and we both agree to publish results sooner.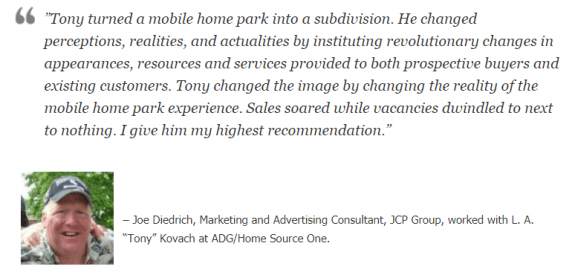 Real Turn-Around$, That Were Losing Before
In doing such a test with a larger MH Communities client, we dramatically increased traffic, and increased closures on the highest priced manufactured housing products – highest priced home, and highest cost land-lease in that market.
The project created record results for the organization. Sales soared by hundreds of percent, using the same budgets that were previously being spent.
Our test had numerous disadvantages that the Urban Project's test Kinzler mentioned didn't have. To rephrase, by comparison, the odds were stacked against us.
Yet the work we did was praised in writing by the owner of the company.  By contrast, Kinzler notes that the Manufactured Housing Institute (MHI) backed project failed to achieve its stated result.

MH Communities, MH Retail, MH Lending, MH Production….
…including a Clayton Homes Sales Center
Some years ago, this writer was assigned an interesting test case. It was a Clayton Homes retail location, that was slated for closure.
Within weeks of taking charge within the mandate, it went from worst to near first in that market in new deposits and new deals. Some of the staff was turned over, but others were retained, re-trained, and thrived under new leadership.
Takeaways and Bottom Line$
There are many takeaways from every experience, especially for those who have a long-time horizon.
Given the affordable housing crisis, manufactured housing is poised with an opportunity for tremendous growth in most every market we've looked at, from border to border and coast to coast.  'Tremendous,' as in 400 percent to 1,000 percent growth or more.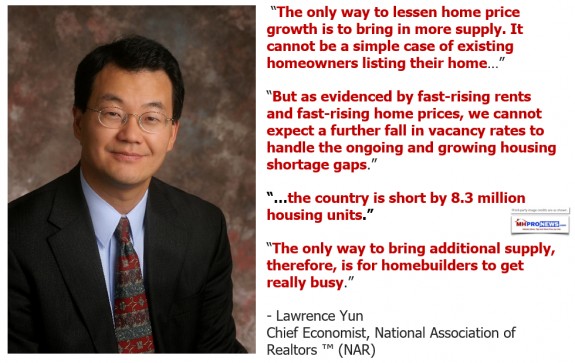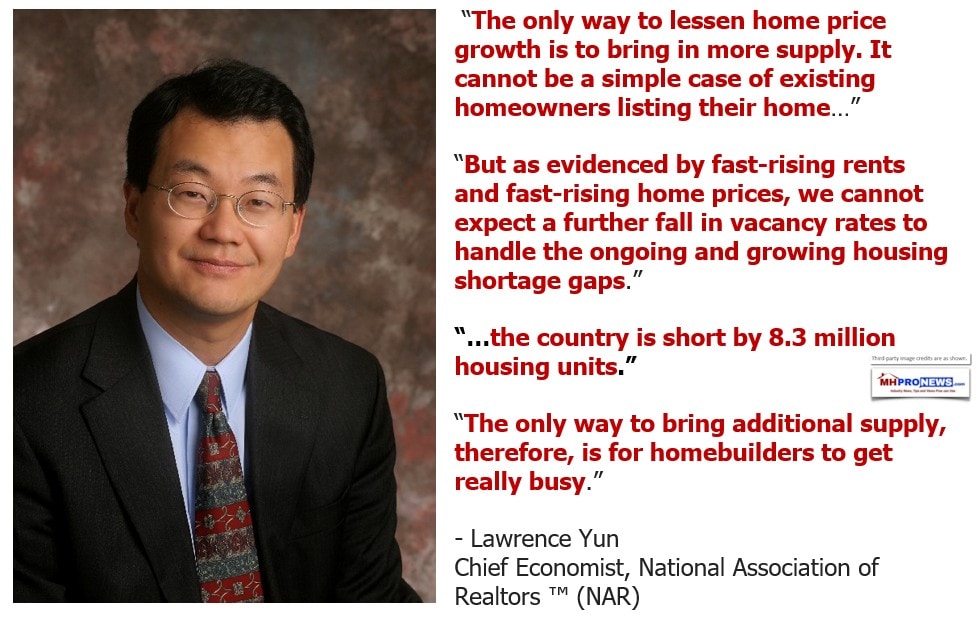 But the key(s) for achieving sustainable growth may or may not be what the larger companies or organizations believe it to be.
You don't have to try to figure out why someone does X, to learn from their failures or successes yourself.
Before you close a location which can cost a lot of money, or turn over staff, why not bring in a new set of eyes?  Why not test something brand new, and see how that works? The results of doing so may profitably surprise you.  ##  (Monday morning marketing, sales, management tips, analysis, commentary.)
(Third party images, cites are provided under fair use guidelines.)

By L. A. "Tony" Kovach,
award-winning consulting, publisher, web, video, recruiting, sales training, business development service provider.
MHLivingNews.com | MHProNews.com | Office 863-213-4090 |
Connect on LinkedIn:
http://www.linkedin.com/in/latonykovach