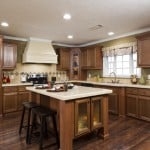 In a Meet the Media Morning at the Louisville Manufactured Home Show Thurs. Jan. 24, from 9-11 AM, the press has been invited to see the quality of factory-built homes for themselves to dispel the misconceptions about the industry and the product.
Top-named officials in the industry, companies associations and professionals from across North America will engage with the media after they tour some of the 39 homes installed in the Kentucky Exhibition Center.
Although closed to the general public, some 1700 professionals from across North America will be in attendance at what has become the largest indoor trade show in the nation, perhaps beyond.
The Midwest Manufactured Housing Federation (MMHF) is the parent body for the Louisville Show. MMHF Chairman Ron Thomas says, "We at the Louisville Show want to treat the media to a spectacular array of dozens of new homes, to see the products and services our industry offers, all under one climate controlled roof."
Louisville Show promoter and MHProNews publisher L. A. 'Tony' Kovach says, "There are so many myths and misconceptions out there, that the best way for the media or anyone else to understand the truth about factory built housing is for them to personally see the homes."
Members of the media seeking admission should contact Dennis Hill, Show Manager, 800 Old Roswell Lakes Parkway, Suite 140, Roswell, GA 30076, Phone: (770) 587-3350 and be prepared to show media credentials.
(Photo credit: A kitchen in one of the 39 homes at the Louisville Show.)