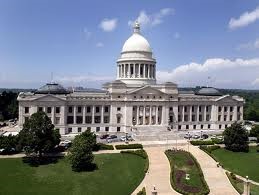 A bill being drafted by the Arkansas Circuit Clerks Association that would require counties to record and report all mortgage assignments and mortgage releases is getting some backlash.
The Log Cabin Democrat tells MHProNews that Jonathan Greer, general counsel for the Association of Arkansas Counties has been working with the Arkansas Circuit Clerks Association to draft House Bill 1053 and get it filed.
Greer said the Arkansas Realtors Association, Arkansas Manufactured Housing Association and Arkansas Land Title Association have expressed concerns about the bill. "We're meeting with them to see if we can't resolve their concerns before presenting the bill," he said.
The Arkansas Realtors Association at this point is not in favor of the bill because of recording costs, said Rhonda Wharton, president of the Arkansas Circuit Clerks Association.
Most mortgage assignments are one page documents, Wharton said. According to the bill, recording one page costs $15, and each additional page costs $5. Usually that cost is passed on to the person who has the mortgage.
J.D. Harper, executive director of the Arkansas Manufactured Housing Association said he has distributed the information about mortgage assignments and releases to the association's lenders to see what their concerns are.
Harper said he understands there may be some changes coming to the bill, and his association won't have a position one way or the other before it sees the final piece of legislation.
Greer said one such change might be removing the additional $100 fee for recording mortgage assignments and mortgage releases 90 days after execution.
"We may make some changes to satisfy them," he said, "but I don't know if we can."
Rep. Charlene Fite (R-80) and Sen. Terry Rice (R-9) are sponsoring the bill, which is anticipated to be considered by the Insurance & Commerce Committee in the Arkansas State Legislature this week. ##
(Photo Credit: Newswire/uark.edu)
Article submitted by Sandra Lane to – Daily Business News – MHProNews.