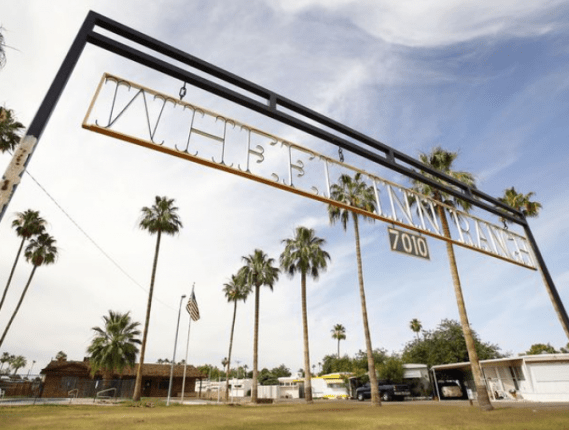 The 80-100 residents at Wheel Inn Ranch RV and Mobile Home Park in Scottsdale, Arizona will have to relocate by January following the purchase of the land last year for over $3 million by MHP Scottsdale LLC, led by developer Ryan Hartman, according to azcentral. While many of the residents are elderly, the community is in the heart of an eight-square mile area the city has designated for redevelopment, and Hartman intends to erect apartments.
Under Arizona law, manufactured home community (MHC) residents displaced because of development are eligible to receive up to $5,000 from the state's relocation fund. MHProNews has learned  MHP Scottsdale will provide an additional $2,000 per relocated home as well as contribute $500 per home to the state relocation fund.
Founded in 1958 with 112 homesites, MHP Scottsdale said the infrastructure is deteriorating but they intend to treat the residents fairly. Donna Higgs says 42 percent of the residents are over 70 and 42 percent are disabled, and 70 percent of the homes were built before 1976 when the federal government began overseeing production of MH. Owners of homes that cannot be moved will receive $1,250.
In 2005 WestStone Properties bought the community with the intention of razing it but the city council denied their proposal. Scottsdale spokesman Mike Phillips said the city will attempt to provide resources to help the residents relocate. ##
(Photo credit: therepublic/David Kadlubowski–Wheel Inn Ranch RV and Mobile Home Park)

Article submitted by Matthew J. Silver to Daily Business News-MHProNews.