The monthly private payroll jobs report from ADP and Moody's Analytics was released today, and it appears that President Donald Trump's "America First" plans are taking shape.
According to CNBC, job creation surged in May thanks to a jump in construction positions and a boom in professional and business services, up 253,000, which is significantly higher than the expectations from economists surveyed by Reuters, which projected a number of 185,000.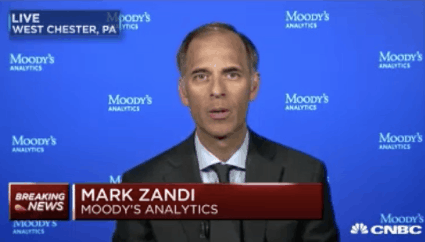 "The growth is three times the rate of the growth in the underlying labor force," said Mark Zandi, chief economist at Moody's Analytics.
"So that means the unemployment rate, which is 4.4 percent, is quickly headed to 4 percent. This labor market is rip-roaring and getting really tight."

Leading the way in jobs created was the services sector, with 205,000 new jobs, professional and business services contributing 88,000 jobs, which represents the best month for the sector in nearly three years, and education and health services adding 54,000 jobs.
The report noted that the construction sector added 37,000 jobs as the building season heats up, while manufacturing grew by 8,000 jobs and mining grew by 3,000 jobs.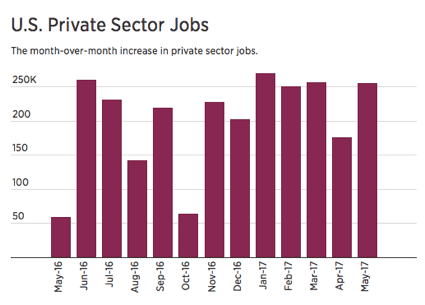 As Daily Business News readers are aware, the mining sector has been one of the cornerstones of President Trump's agenda.
Trade, transportation and utilities added 58,000 new jobs, and franchises add 18,400 new workers.
The positive report comes at a time where economists are doubtful that the Trump administration can deliver on its goal of three percent annual GDP growth, in part because the labor market is near full employment.
The report from ADP and Moody's Analytics are regular precursors to the nonfarm payrolls count from the Bureau of Labor Statistics (BLS).
Economists estimate that payroll growth will come in around 176,000, down from the previous month's 211,000.
"The Proof is in the Pudding…"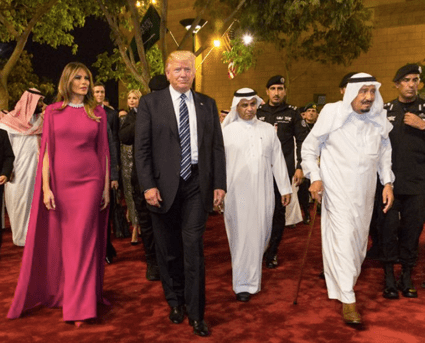 As the Daily Business News covered in a feature story recently, while President Trump continues to make progress, including the lowest unemployment rate in decades, and the highest consumer, business confidence, and homebuilder confidence numbers in years, along with over $300 billion in deals with Saudi Arabia, what ELS Chairman Sam Zell colorfully called a "cacophony" of Deep State resistance has moved into high gear.
Even with that Deep State resistance, NFIB President and CEO Juanita Duggan, and industry organizations like MHARR, talked about the potentially massive impact that the Trump Administration could have.
"Small business owners are clearly encouraged by the election results, but now it's time for President-elect Trump and congressional leaders to deliver," said Duggan.
"Federal taxes, regulations, and Obamacare are the three biggest impediments to running a small business in America. Small business owners have high expectations that those problems will be addressed."
For more on President Trump's progress, and challenges, click here. ##
(Image credits are as shown above, and when provided by third parties, are shared under fair use guidelines.)

Submitted by RC Williams to the Daily Business News for MHProNews.
(Copyright Notice: This and all content on MHProNews and MHLivingNews always have been and are Copyrighted, © 2017 by MHProNews.com a dba of LifeStyle Factory Homes, LLC – All Rights Reserved. No duplication is permitted without specific written permission. Headlines with link-backs are of course ok. A short-quoted clip, with proper attribution and link back to the specific article are also ok – but you must send a notice to iReportMHNewsTips@mhmsm.com of the exact page you've placed/posted such a use, once posted.)