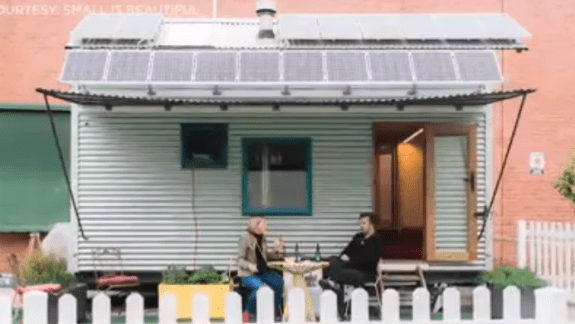 Australian filmmaker Jeremy Beasley has been documenting the Tiny Home movement which began in the U. S. 15 years ago, and estimates there are between 500 and 1,000, although the exact number is unknown because many are under the radar. As MHProNews reported Oct. 21, 2014 on a 70 square-foot one person Tiny Home constructed by Prof. Lucas Brown and his students at Green Mountain College in Vermont, named OTIS—Optimal Traveling Independent Space—many will fit on a utility trailer and thus can be mobile, although that is not necessarily the intent.
OTIS has a composting toilet, a single 120-watt solar panel for electricity, water cachement and a small wood stove for heat and cooking. As yahoofinance tells MHProNews, the minimum size for a manufactured home, according to the Department of Housing and Urban Development (HUD), is 320 square feet. Beasley says the average Tiny Home is 186 Square feet and costs around $23,000 to build.
The median price of a new home in the U. S. is $277,000 and has 2,600 square feet. He says 68 percent of Tiny Home people have no mortgage, and 65 percent have no credit card debt. They average $8 to $15 monthly for utilities.
Beasley was motivated to seek an option to a conventional home when he realized he could not afford a 30-year mortgage, and spent two years documenting the Tiny Home movement in the U. S, eventually focusing on four people in Portland, Oregon who built their homes, shown here in a short video, "Small is Beautiful," according to yahoofinance. He notes the characteristics shared by people he met: "Freedom is definitely something a lot of people have in common, as well as living sustainably and trying to lessen their footprint on earth."
Tiny House owners, however, say the more all-encompassing has less to do with statistics and more about lifestyle choices. One of the Portland people featured says the Tiny Home keeps her living costs low so she can provide free medical care as a licensed acupuncturist.
Beasley plans on buying a Tiny Home in Australia. ##
(Photo credit: yahoofinance/Jeremy Beasley–couple sits in front of tiny home.)

Article submitted by Matthew J. Silver to Daily Business News-MHProNews.