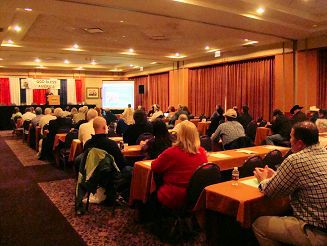 Increased optimism, higher attendance and more sales by factory-builders were reported by those who attended the 2013 Tunica Manufactured Housing Show. Kevin Flaherty, Vice President of Marketing at Champion Enterprises, told MHProNews that "Champion had a very successful show with most retailers citing a significant increase in lot traffic starting 60 days ago.  While appraisals and financing still exist as hurdles, there is a definite feeling that this year will outpace 2012.  It appeared that all manufacturers placed a greater emphasis on interior design components with exciting applications found throughout the show.  The number of supplier displays and the activity at their booths is further evidence that confidence in manufactured housing is returning!" Dennis Hill, Show Coordinator for the Tunica Show confirmed that statement, saying, "All of the factories I spoke with reported this was a selling show."
Others made similar comments.
By the numbers, attendance at the Show was up in every category in 2013 over 2012.
2012 vs. 2013
37 – 62 = Builder/Developers (167% increase over 2012)
48 – 82 =  MH Community owners/managers (170% increase over 2012).
39 – 45 = Installers (115% increase over 2012)
899 – 1,045 = MH Retailers (116% increase over 2012)
Compared to 2012 when 2,028 attendees and exhibitors came to the Tunica Show, 2013's final report reflected a grand total of 2,204 attendees and exhibitors.
All attendees who took part in the educational seminars were asked to give a written evaluation of their experience. On a scale of 1 being the poorest and 5 being the best, all presenters and/or panels were ranked by attendees as a 4.0 ("good") or better. When asked "Is having business building seminars a positive, appealing attraction for coming to the Tunica MH Show?" with 1 = no attraction to 5 = a "strong attraction," attendees rated the seminars as a 4.82 overall attraction (good to strong). ##
(Photo Credit: Lisa Tyler for MHProNews)