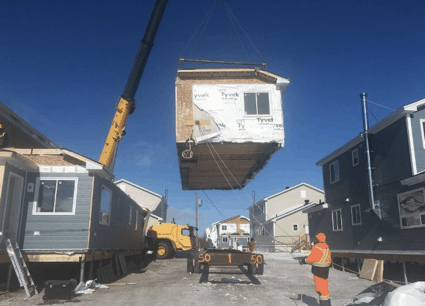 In a story that the Daily Business News originally covered here, the Kashechewan First Nation community has received the final batch of modular duplexes for its residents.
According to Northern Ontario Business, March was the "milestone month" for residents, as
104 units were put onto their foundations, completing a project that began last July. Back in May 2014, 36 homes were damaged in Kashechewan due to flooding, which forced the evacuation of 454 residents to temporary accommodations in Kapuskasing.
"We did all the foundations, all the training, we stitched the units together and the final buttoning up of the units to get them ready for the handover to the clients," said Terry Sutherland, president of Tundra Construction, a First Nation-owned company headquartered in Moose Factory.
The modular duplexes were constructed by Maple Leaf Homes in New Brunswick, and locals did the primary labor on site.
"Our workforce was 99 per cent local band members," said Sutherland.
"With an estimated 50 residents working alongside experienced tradespeople in roles as carpenters, laborers, electricians, plumbers, lifting and rigging."
Sutherland also pointed out that the entire process around modular homes involved a learning curve.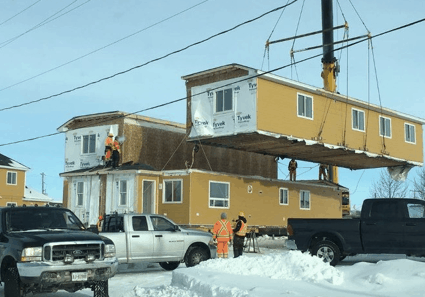 "This whole system of handling modular homes was new to pretty much everyone up there," said Sutherland. "The first one was a learning process for a lot of them, but after that it was just general carpentry with the beams. It was a different process as compared to a stick-built house."
In March, Kashechewan signed a framework agreement with Ottawa and Queen's Park to come up with a long-term community plan for better housing and health programs and infrastructure development.
Also included in those plans is a possible relocation of the community to a less flood-prone area.
"When they left Kashechewan two and a half years ago now, they basically left with a small duffle bag with some clothes. They've basically rebuilt their memories and all their personal property and stuff while they were here in Kapuskasing," said Kapuskasing fire chief Gerry Desmeules in December.
And, while the new modular homes could be moved in the event of severe flooding in the future, some residents are thinking that they may have to leave again.
"Some people are saying as they get on the plane, well, we're going to see you again in the spring, because obviously the problems they have with flooding up the coast," said Desmeules, "so, it's always a roll of the dice for them."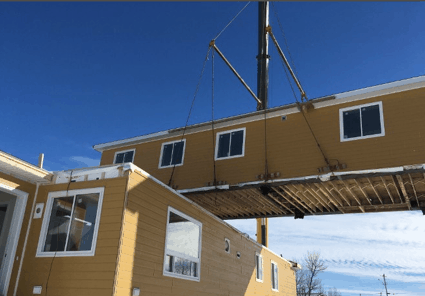 The full story documenting the First Nation residents return is linked here. ##
(Image credits are as shown above, and when provided by third parties, are shared under fair use guidelines.)

Submitted by RC Williams to the Daily Business News for MHProNews.