12.17.2016 A.D.
To: Dr. Ben Carson – named by President-elect Donald J. Trump as his desired Secretary of Housing and Urban Development (HUD).
From: L. A. "Tony" Kovach – Managing Member, Lifestyle Factory Homes, LLC – Publisher of MHLivingNews.com and MHProNews.com.
Subject: A Specific Way to Apply Your Goals and Principles that Could Transform HUD and Save Taxpayers Billions, by Enforcing the Law, Using Common Sense and Ending a Form of Taxpayer Funded Discrimination.
Dear Dr. Carson,
Let me begin by congratulating you and President-elect Donald J. Trump. By way of introduction, like you, my truly better half and I publicly supported Mr. Trump's candidacy consistently against the many deceptive and even vicious tactics used by his opponents.
We believe, as you do, that "patient endurance" (cf: Heb. 10:36) will obtain everything and that "…the truth sets us free" (cf: Jn. 8:32).
You know what discrimination is and how it works. Most use the word discrimination in racial terms, which those enlightened by a proper understanding of the Word know is wrong.
For the purposes of your upcoming role at HUD, let's focus on the following aspect of the dictionary.com definition of discrimination:
…"treatment or consideration of, or making a distinction in favor of or against, a person or thing based on the group, class, or category to which that person or thing belongs rather than on individual merit."
Discrimination, as you know, is often caused by ignorance.
Discrimination is rooted in a lack of objective understanding. It is caused by improper information and a paucity of intellectual curiosity. Your career reflects the opposite of such qualities, as you pioneered new achievements in neurosurgery through the combination of education, effort, goal orientation, desire, and faith.
Millions today are trapped in poverty.  As you stated months ago, the federal government often misuses resources that if left in the hands of "We, the People" could be used far more effectively. But it will take time and effort to move giant bureaucracies – such as HUD – and millions back to the proper limits of law.

You know that just as some treatments must be done in stages to avoid a shock to the body, similarly, some steps will be needed at HUD to avoid a negative shock to the American body politic.
There are some hundred plus millions from all backgrounds in the U.S. who have never been properly taught the advantages of limited government. Millions have never been told the brilliance of free enterprise. They don't understand the blessings of solidarity, subsidiarity, and self-reliance.
Millions will therefore need to be taught to fish – and must learn why metaphorical fishing, as your life epitomizes, is a beautiful thing – a way to tap those talents and skills that you and President-elect Trump have spoken or written about which are often now dormant.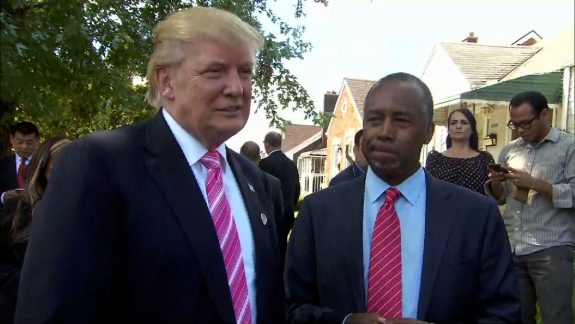 HUD's and Federal Waste is Unsustainable – Yet a Solution Saving Billions is Hiding in Plain Sight
Billions of dollars annually are squandered by HUD for housing programs that long-term are unsustainable.
Yet millions from all backgrounds have been hooked – so to speak, on those programs – which tends to trap and thus limit their human potential.
One of the departments at HUD is the manufactured housing program. It is led by a person who is a partisan Democrat, and she behaves in ways that the outgoing Obama Administration has regrettably often acted. Namely – Pam Danner, JD – and her staff have routinely failed to enforce the law as it is written and intended. Some believe such HUD staffers who are failing at their duties are part of the swamp that must be drained for this program to perform for Americans as it supposed to by law.
That law is the Manufactured Housing Improvement Act of 2000 (MHIA 2000).

The proper enforcement of the MHIA 2000 holds the key to solving America's growing affordable housing crisis. It does so using the law and the free market.
Manufactured homes – as a prior HUD Code Manufactured Housing program administrator explains in an interview in the video below – must by law perform in a dynamically similar fashion to conventional construction. As U.S. Census bureau studies demonstrate, HUD Code manufactured homes are about half the cost of similar-sized conventional construction.
The Government Accountability Office (GAO) study, linked as a download from the graphic below, proves that manufactured homes are the most cost-effective form of housing.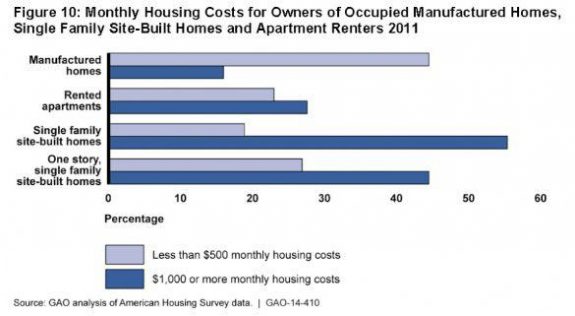 So why are manufactured homes so disrespected and discriminated against?
Dr. Harold Hunt has correctly stated, manufactured homes Are Not Your Grandfather's Trailer House.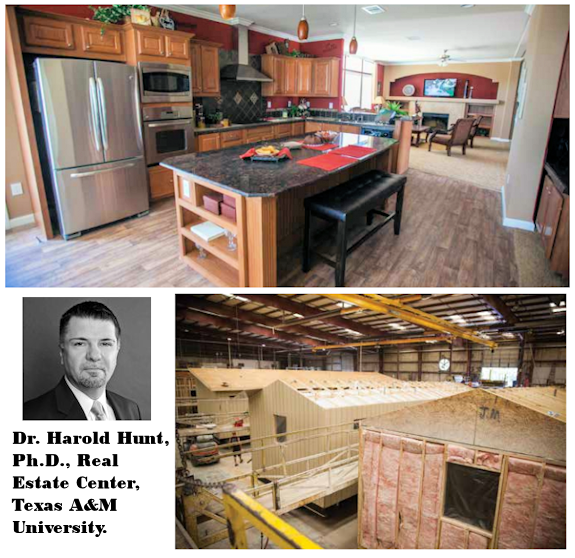 Dr. Lisa Tyler's doctoral dissertation has pointed to the discrimination and rejection in zoning based upon ignorance; the lack of a proper understanding and treatment of manufactured housing.


Engineer Dr. Tim Reinhold has demonstrated what common-sense should tell a thinker.  That a manufactured home – which must withstand the stresses of movement – is stronger than standard building techniques, so long as the manufactured home is properly installed.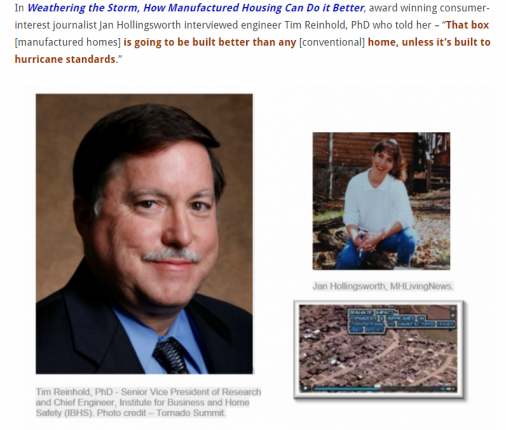 There is much more that could and needs to be brought to your attention, sir, about modern manufactured homes that would dispel the myths, misconceptions, and outdated notions.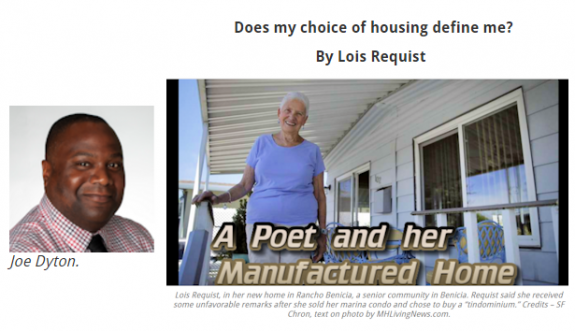 In cities and local jurisdictions across America, manufactured housing is being discriminated against.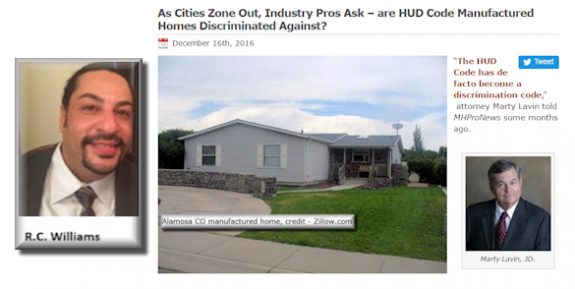 Yet those very local officials who are violating the MHIA of 2000 – that HUD's Pam Danner and her staff have routinely failed to rigorously defend – are excluding the solution to the affordable housing crisis that Bloomberg, HousingWire. Realtor and Fox News have all pointed to needs to be promoted.
That appealing, common-sense option is regulated by the agency you will soon lead.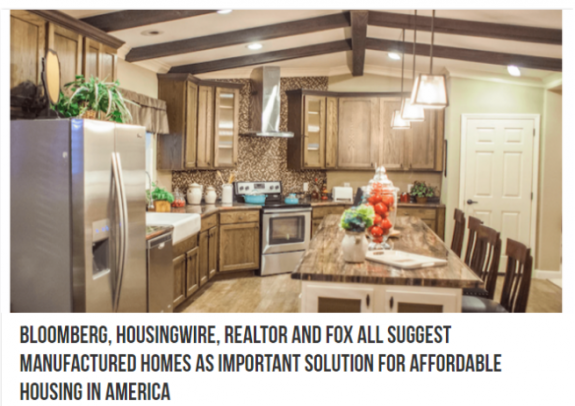 I'm hopeful that a man of your intellect and solution-oriented desire for Americans to prosper will see from this introductory letter, related links and visuals that HUD has disgracefully tilted the playing field away from a free market solution to affordable quality living.
Instead, the government – HUD – is subsidizing other forms of housing that manufactured homes provide a far more cost-effective alternative. That defies logic.  That could only happen in broken, Washington, D.C.
Many think that tiny houses – which are often built on a chassis, and are thus mobile – are hip and cool. Yet those tiny houses are routinely built to no code at all. By contrast, manufactured homes are built to the only federal – and thus preemptive – housing code of its kind. Aren't the ironies amazing?
Our industry has frankly failed to dispel the myths or outdated notions that separate manufactured homes from the mobile homes and trailer houses of yesteryear.
But HUD has failed to enforce the law that makes the path to homeownership available to millions more who are otherwise often stuck in rentals.  Millions are in HUD subsidized rentals. That can change – improving lives and saving taxpayer money – with the proper leadership.
The Senses at Work
Let me conclude with an invitation. Please invest two days before or after you are sworn in, and let me personally show you how these homes are built.
Then let's go to the locations these marvels are properly sited in and introduce you to the people who know and love the homes they own, live in or otherwise serve and sell.
Seeing is believing. Touching, hearing and feeling will be eye-opening.
Please let me invite you to spend a few hours at the upcoming Louisville or Tunica Manufactured Housing Trade Shows. While these trade events are closed to the public, the industry would be thrilled to have you as an honored guest. You could see in a matter of a few hours the difference between outdated perceptions vs. the modern realities.
Truth and prudent action can end the wasteful discrimination.
If you witness and research the modern realities vs. the myths, you will likely discover that the solution to affordable housing is sadly tucked away at HUD, and has been badly mismanaged prior to your arrival.
The Trump family is no stranger to upscale factory-built housing. Those modular home building methods also offer an important solution in many cases.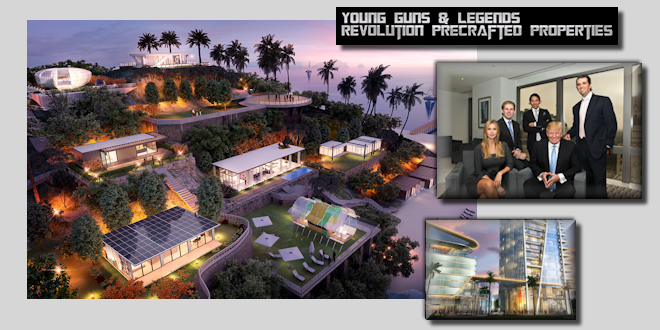 But for single family new construction, nothing on the market in the U.S. today is as cost-effective as HUD Code manufactured homes.
So please let me personally arrange for you and any associates of yours that you desire to attend a tour at a few locations. Talk to experts. Question the owners. That will yield the epiphany that could make your time at HUD just as historic as some of your achievements in pediatric neurosurgery.
Manufactured homes are a truly American housing product and process that could ease federal budgets. The homes your department regulates offers millions a common sense, free market path to home ownership.
From the:
working class or retired people of very modest means,
to the middle class,
to frugal millionaires,
they are all among the 22 million (+/-) who benefit today from manufactured home living.
If you allow HUD to follow the law – and thus unleash the power of the MHIA 2000 –  that will create so many good jobs in the process, and it would do so 'the good old fashion American way.' No crony capitalism is needed.
Please allow me to serve by personally and meaningfully introducing and Welcoming you to the World of HUD Code Manufactured Homes.
You have the patience, persistence, and wisdom to see how this possible dream for millions can come true in a way that will save the federal government billions of tax dollars a year.
"Come, let us reason together." (cf: Is. 1:18). Amen?
Respectfully yours,
L. A. "Tony" Kovach
##