Print: newspapers, magazines, yellow pages, papers, brochures or mailers. What do they give you that the Internet can't? Paper cuts? Ink on your fingers? With the web and the right analytical tools, a professional can give you accurate statistics that print alone can not deliver. With that quick backdrop, let's take a look at the topic of white hat vs. black hat SEO.
SEO is short for Search Engine Optimization. If I have picked up a printed piece and I want to find something – say in a newspaper or magazine – I have to hunt for it. It may not even be there, with print you don't know until you hunt and even if it is there, you may miss it.
But with the web, as billions of people already know, by using a specific set of key words, I can search for a topic, business, service, product, name etc.. Using a search engine like Google, Yahoo or Bing will take you right to a link for a web page that print can't do.
Using the right analytical software, extensions or plug ins, we can know how many impressions and how many click throughs are obtained from a certain page, article or banner ad. With print, there are indirect measures possible, but they cost extra. There is currently no direct way of knowing exactly how many people see (think "impressions") or respond to a message, ad, mailer or article that is in print.
Impressions
Sometimes a little knowledge is a dangerous thing. Many who have some tech knowledge ignore impressions in online marketing analysis, to their detriment. You want to know both the "impressions" – how often your banner, for example, is visible on a site – as well as the click through number. You can't get a Click Through Rate (CTR) without first having both of those other statistics!
Further, scientists have known for decades that the mind subconsciously sees virtually everything in a room, street, open magazine or web page, etc. So 'impressions' do add up to a subtle subconscious influence. Just as that little jingle helps you remember a commercial, so too the total number of impressions over time helps your target audience remember your firm at the time that could be important for you to engage and do business.
Measuring Results
"You can't manage what you can't measure."
We as business professionals speak of measurable results. Politicians can make bold claims – may tell or bend the truth, or even lie – but then can try to spin or obscure their results to make it harder to measure. By contrast, in marketing by using proper – white hat – online methods, you can set short, medium or long term strategies that yield measurable results.
Done right, those results will positively hit your bottom line.
With a high ticket product like a manufactured home – or commercial real estate services, such as listing and selling MH Communities (MHCs or 'mobile home parks') – sometimes a modest one year investment can yield a result that will repay you manifold with a single transaction.
With a lower margin service – say skirting or a manufactured home owners policy – you may need to hit many transactions to accomplish your proper return on investment.
Organic vs. Paid Results
The simplest way to explain the difference between paid and organic results is to show you.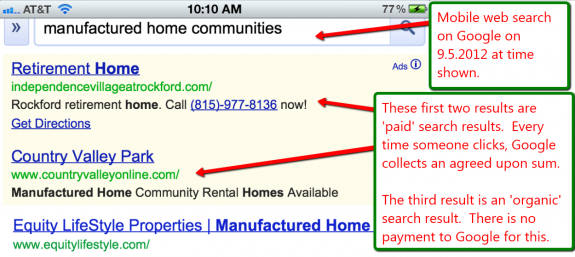 White hat, Black hat SEO
Do you remember a couple of Christmas' back, when JCPenny often came up high – as in on page one, result one – in organic SEO results? It was alleged that JCP had used 'black hat' SEO tactics to get them that organic, or unpaid, search result. It was also said that once caught, the search engines punished JCP and they suddenly vanished from page one, buried much deeper in the organic search engine results.
Black hat SEO can yield a result, often quickly. We won't say how that JCP result was accomplished. We won't say if the firm was duped by their provider or if JCP allegedly knew what they were doing.
What we will say is that either way, using black hat SEO is a little like a fire cracker. It can be fun, even impressive. But if it goes off in your hands, ouch! It's hospitalization time!
By contrast, white hat SEO can yield a good result too. One difference is that it doesn't blow off your fingers or injure you in some other way.
White hat SEO should include short, medium and long term strategies. Done properly, it requires a closer collaboration between the service provider and the client company or organization. If the client firm isn't tech savvy, then you better pray that your provider knows the manufactured or factory built home industry, AND their own tech stuff! Otherwise, you can end up with (perhaps) a nice looking webpages that gives you little or poor results.
The right words, the right number of times, the right way
You may have the best photos, graphics or services in your market area. But what if you put your message out there the wrong way? Or without the right keywords and SEO strategies? There is more to SEO than just using a few keywords!
What does such work cost? The simplest suggestion is to say, set a budget for yourself. Then sit down with pros who know and see how much that budget can get you. Let's give an example.
We noted in the screen capture/graphic above that Equity Lifestyles (ELS) came up tops in the unpaid or "organic" mobile web search result for "manufactured home communities." A huge company like ELS – BTW, a firm which we track in our Daily Business News stock market report (see graphic below) – is one that likely has a large budget for inside/outside marketing staff that would include IT/Webtech. It would be no surprise if they pay 6 figures annually for getting such web services that provide such results.
Some large firms literally pay millions for their web-work every year. But they may make billions as a result!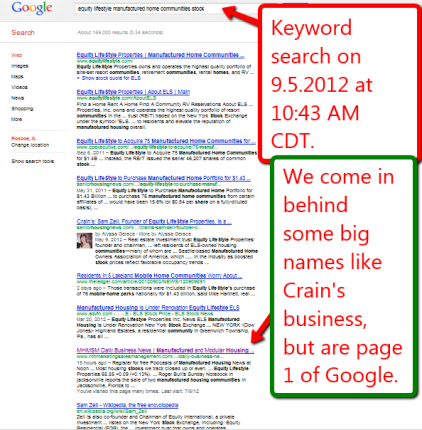 Depending on the project, the costs don't have to be sky high. Good results can be had with modest investments of time, talent and treasure.
Whoever you work with – in house or outside talent – here are some questions that can help you find the right balance to get you where you want to go. The following is not necessarily in any order of importance.
Who is your target audience?
Is your target audience broad , very specialized or in between?
What does it take to recoup and profit from your investment? How much closed business?
What are you willing to do – via your time, your staff's or through contracted talent – to support the proper White Hat web campaign investment?
Is the budget or plan proposed one that can reasonably provide enough results to yield a profit for your campaign?
Are you hiring a firm to do a job once, or do you want ongoing adjustments, enhancement and support?
Keep in mind that all marketing and selling involves 'test marketing.' If you are not able or willing to adjust to the results that you get, that is a little like buying a car and not putting gas in it when needed.
Think short term, middle term, long term strategies.
When you have tens of millions of possible competitors online, think in terms of targeted results and niches you can get more rapid traction. For example, ff you are a retailer in TX, unless you have someone moving from out of state – like from Maine or Minnesota – you really care more about getting a good result in your target market. See our graphics below for examples of targeted key words, but then apply that to YOUR business or organization.
Don't just think 'SEO' only! While our SEO strategies are important, we have multiple legs we plan for ourselves and our forward looking clients. Think:
content,

social networking,

email,

blogging,

direct appeals,

indirect outreaches,

consider teaming up with others, etc.
We don't want to scare you, but doing a good true campaign is a little like doing a business plan. The bigger the budget and goals, the more you plan, monitor and adjust for maximum Return On Investment (ROI) and success. If you have a modest budget, get someone who can shoot rapidly from the hip because they know your field.
Be revealing to your service provider. This is a little like doctor-patient or attorney-client. The more they care about you, the more they understand you, the better they can do for you if they are good at their work. To round out our baker's dozen…
Measure twice, cut once. Think it through, or have someone you trust think it through for you!
There is more, of course, than the bullets above, but it will get you started.
The Budget
Whatever you budget – be it hundreds, thousands of dollars, 5 or 6 figures – be realistic in your expectations. For example, we can and do dominate in many keyword searches, but certainly not all. In fact, there are some searches we don't mind missing entirely. The same is true for you too. See the screen capture/graphic below.
For those truly trying to dig deeper to understand this topic, there is a method to the madness that follows, so look closely!

When you are in a crowded field, use targeted strategies that can maximize your results.

By using "quotes" around the keywords to yield a more focused result, you have 74.6 Million this time.

In a big field, using quotes around your search will yield a more specific result. Try it!
Notice the first result of the 3 immediately above yielded 86.2 M results,
but the third one above yielded only 14.5 million results with the same two search words.
Targeting Topics and Key Words
We do non-disclosure agreements with our clients, so we can't show you those results, but we can show you some of our own results to make the points shared in this article.
Besides being a manufactured housing industry service provider (web and other manufactured home marketing, sales and management solutions/systems), we obviously are trade publishers too. Even as the most popular site of our kind, that doesn't mean we will always be number one for a search phrase. But if you can be on page 1 of Google in a search that can bring value to you, that is important.
When you are in the news, tips and views business, it can help to have some of the known people in our industry show up in your search results.
As you look at the below, think beyond the person or organization, think about how this applies to targeted words you would like to do well with to grow your results.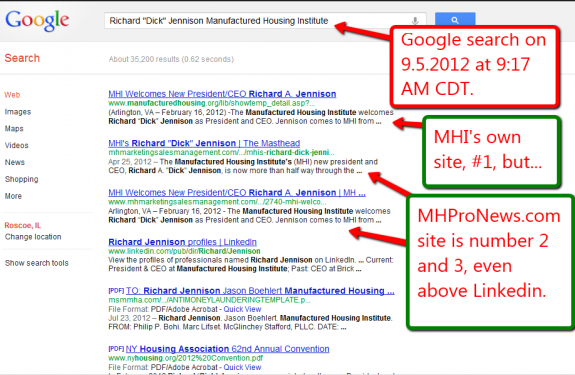 When someone is researching, they will often check beyond that subject's organization or company.
They will want to see what is on other people's sites about the research subject too.
To be equal opportunity, let's look at a MHARR (Manufactured Housing Association for Regulatory Reform) related search result below.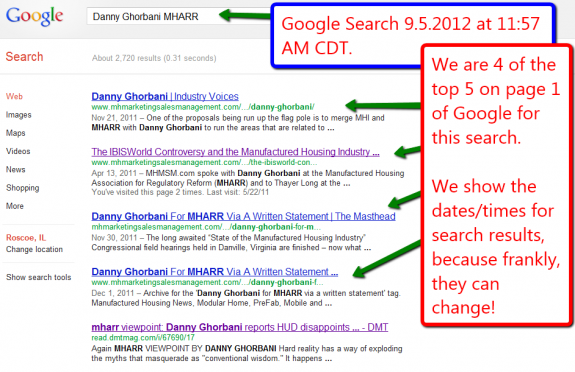 Jenny Hodge was recently appointed to serve as the executive director of the National Communities Council (NCC) division of the Manufactured Housing Institute (MHI). How do we do on that search?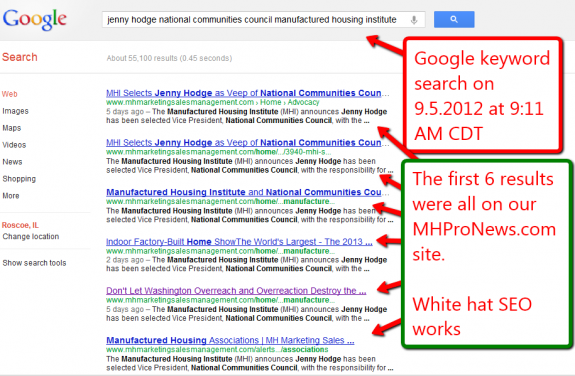 Now there is more than one lesson in the next result. We want to be politically sensitive, but at the same time, make a point that can help you plan your own online marketing strategies.
Are you teaming up with 'competitors?' If so, that can be smart. If not, why not?
If not and you can't or won't, wouldn't it be wise to be able to play off of a competitor's name?
The above questions are NOT a perfect analogy for what follows. But here is a search where we do better on page 1 of Google than the person's own company website gets for their own result. Not always easy to do, but it has powerful implications!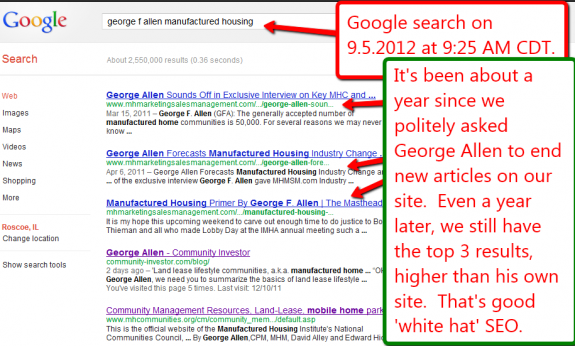 How often you update your site or a topic has a lot to do with the SEO result.
Also, keep in mind that Google and other search engines are routinely
changing the algorithms or formulas that determine what gets shown on page one
and in what order. When we show a result,
we try to show the date and time, because it can change!
Are you or your web designer thinking mobile web? Smart Phones, iPad's and Tablets?
We recently started a new website – see below – that is focused on the public and manufactured home owners (Business to Consumer or B2C), vs. the Business to Business (B2B) audience here at MHProNews.com.
After only a few months, look at what is already happening. We put together a screen capture of this mobile web search result below.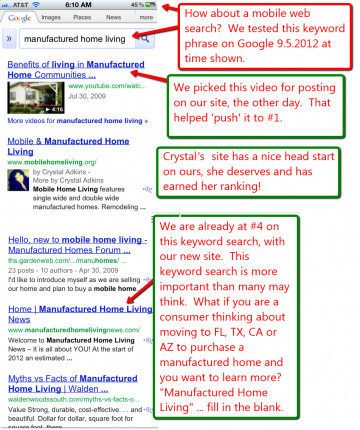 Again, there is a lot to this graphic and possible lessons.
By targeting someone else's page – that YouTube Video – we boosted that result!
The same can be done for you and your firm.
If you have the budget, think about a multiple website strategy!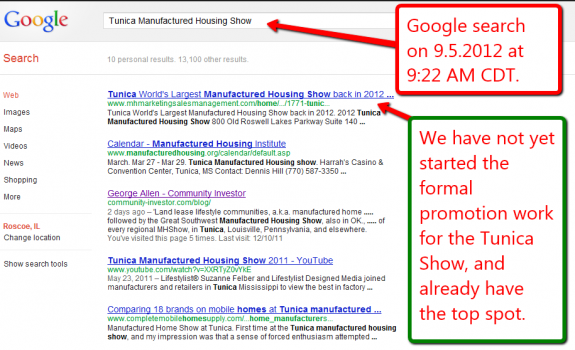 We will draw to a close this topic with an example of a new client that is happy to be shown.
We have not yet started the formal work for this client, which is the Tunica Manufactured Home Show for 2013.
We just posted this press release style article linked above yesterday, and we are already on page 1, number 1 of Google for this search!
We mentioned above the importance of email and other types of support for your efforts. According to this Direct Marketing Association report cited below, in 2011, Email Marketing returned an average of $43.52 for each dollar invested.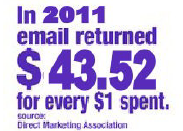 Just think, you'll never get that in Vegas! Vegas and other gambling spots are not built for winners, they are built for the majority who come and lose.
But with your own business, when you follow a professional, white hat SEO and other strategies, you can get a handsome return on investment. You have far more control over the result than when gampbling.
For clients with a big ticket sale, a single sale may pay for years of web or advertising.
Which will bring us towards the conclusion.
Teaming UP
Be it B2B or B2C, one of the smartest things that manufactured home professionals can do is 'team up' with others. Part of what the exercise above proves is that having many people – or companies – on the same platform draws greater numbers! If it was just Tony Kovach on this site, it might not be nearly as exciting as when you have 16 other articles in September alone, plus many more blogs posts – like Industry Voices or the Daily Business News – that feature a writer other than me and companies other than ours!
Frankly, there is overall no sites better suited for those teaming up efforts than MHProNews.com or MHLivingNews.com. Who says? Our clients do.
But the point is that it pays online to share the stage.
Everyone involved can win when you share the stage's benefits. It is like the wisdom of going to a trade show like Louisville or Tunica. When you have more homes, more products or more manufactured home retailers on a place like Shields Boulevard in Oklahoma City during their hey-days, it acts like a magnet.
Being where the action is can benefit everyone in the mix, when each is following a sound plan. We aren't talking about anti-trust here, we are talking about the legal and marketing savvy used in forming shopping centers and malls across the country!
Part of the wisdom of a site like MHVillage's is exactly such a reality. If there was only 1 home listed on MHVillage, it would be boring! But when you have thousands of homes every year that get listed, bought, traded, etc., it is always changing…
…now you are talking action that draws an audience. In their case, 45,000 visits a day.
When you are ready to grow your business, consider the value of white hat vs. black hat SEO and other internet strategies that should work hand and glove with it. Should you wish to talk with us, please fill out the form at the link below, or just pick up the phone and give us a call.
http://www.MHProNews.com/business-development/website-reviews
You can call the rest, but do call our specialized Industry's best. You'll be glad you did. ##
L. A. "Tony" Kovach
MHLivingNews.com=Re-Discovering and Spotlighting the MHLifeStyle
MHProNews.com = MHMSM.com = Industry News, Tips and Views Pros can Use
Services:B2BandB2CAds, Proven MH Marketing & Sales Systems, Websites other Industry Solutions.
Office –815-270-0500
latonyk@gmail.com or tony@mhmsm.com
LATonyKovach.com
http://www.linkedin.com/in/latonykovach= connect with me on Linkedin.
http://pinterest.com/latonyk/manufactured-home-lifestyle/
+++
Whether you think you can or whether you think you can't, you're right. – Henry Ford