Increasing bottom line results is something that brings you and other manufactured housing professionals here by the tens of thousands every month. In fact 3,000 to 4,000 like you log on to MHProNews and departments like the Cutting Edge in Marketing and Sales blog during a typical day to learn more to earn more.
Before continuing our series on the 5 Motivators, let me share a thought captured from industry veteran Chad Carr in a recent webinar. Two key thoughts are summarized well in the motivational poster you see below.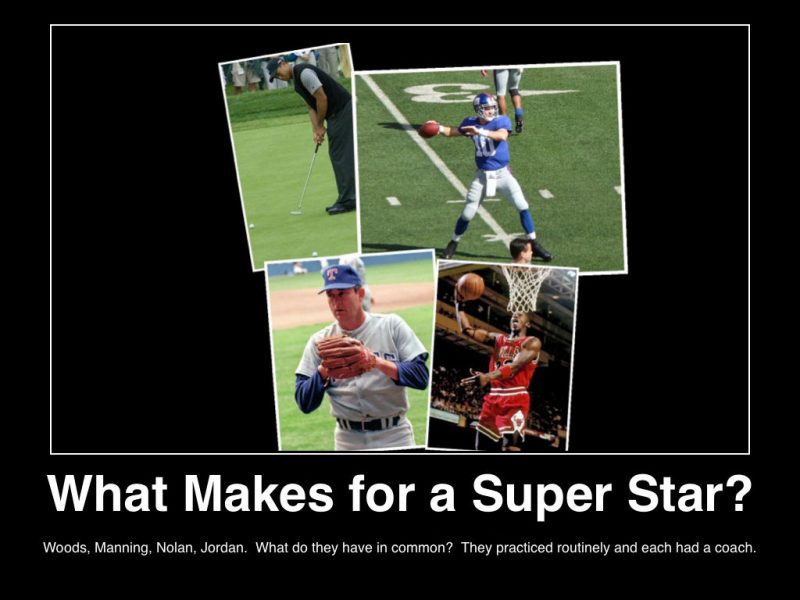 If you like or need motivational posters and messages, please visit the Inspirations blog
I was comparing notes recently with a factory built housing pro who hangs his hat West of the Rockies. We spoke about the state of training, marketing and promotion in our Industry. We agreed that it needs improvement. During the conversation, the following points where raised:
What do these two very different but successful businesses have in common? They both invest two weeks minimum on training for each new team member, before they go to the counter or hit the sales floor and talk with their first customer. They also invest more time after initial training on training updates, plus do routine huddles with their management too.
So why do so many manufactured home marketing and sales organizations fail to do what is proven to work in other industries and professions?
Every super star athlete does two things: they practice routinely and they get coached.
The winning teams don't march out onto the field or court and just do their own thing. They have a plan, a process that works for them. What doesn't work, they strive to improve until it does perform.
Proper planning plus preparation plus practice prevents poor performance.
When you don't have a company coach, use a personal one. Buy books, attend sales seminars, read articles, yes. But to be a super star, experience proves you must practice and be coached.
Check back soon for our next article in the 5 Motivators series.##
L. A. "Tony" Kovach
MHLivingNews.com=Re-Discovering and Spotlighting the MHLifeStyle
MHProNews.com =MHMSM.com= Industry News, Tips and Views Pros can Use
Services:B2B and B2C Ads, Proven MH Marketing & Sales Systems, Websites other Industry Solutions.
Office –815-270-0500
latonyk@gmail.com or tony@mhmsm.com
LATonyKovach.com
http://www.linkedin.com/in/latonykovach= connect with me on Linkedin.
http://pinterest.com/latonyk/manufactured-home-lifestyle/
+++
Whether you think you can or whether you think you can't, you're right. – Henry Ford