The early feedback on our new image building resource is in. So far, all of it has been very positive!
Examples of actual comments:
"I like it. I like it so much, that I plan to steal some ideas"…from the new site and use it.

"Very impressive. This keeps getting better and better."

"The original site was OK, but too much work to find content. This new version is easy to navigate and visually appealing. It makes me want to come back and look more."
We have had some questions and comments too, all of which are appreciated, and all of whom still very much liked this site. Yours comments and suggestions are welcome too. For those who want to see what the original, version 1.0 of the site looked like, click here.
Version 2.0 of ManufacturedHomeLivingNews.com – aka MHLivingNews.com – is linked above here.
There are a number of ways you can get involved in this Image Building Campaign.
They range from free no-brainers to pay to play and be featured on the site!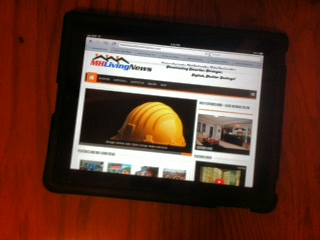 The paid options are all low cost, but more important, can drive business to your business that will pay. All of this will pay off for the industry, because improving the image will help our home owners along with all those dedicated pros in our industry
Quick Facts:
We already have the first retailer – that we know about – who has set up an RSS feed on his site to

ManufacturedHomeLivingNews.com

RSS and/or a hot link are a no-brainer.

We already have our first sponsors for the site, with more welcome.

We will provide opportunities for any legitimate MH Industry retailers, community, developer, manufacturer, lender or other product/service providers to have low cost pages and link backs. During the introductory phase, those who buy a page will have it on our site for the next 5 years (some common sense restrictions apply).

We will welcome and encourage association involvement in this project in ways that will be mutually beneficial. Association members or executives, please feel free to call 815-270-0500 or email me

tony@mhmsm.com

or

latonyk@gmail.com

, thanks!
In the days ahead, we will give you a more detailed tour of the ManufacturedHomeLivingNews site, the concepts and how we will continue to add to it in the days ahead. But lets pencil out a few quick points.
Target Audience
The general public.

Public officials (image building will help win more efforts with them too).

Current manufactured home owners and land lease community residents, because they can become our industrys promoters, if we are wise. They want to feel good about where they live! Give them a tool they can share with their friends, family, co-workers and associates, and they will share it for their own good reasons!
A top executive at vertically integrated company told me this recently. Tony, we follow up on all our leads. So we know that we lose more business not to others in manufactured housing, but to people buying a conventional, site built house.
That is one of many reasons the industry needs this website!
We will continually add content to this new site, similar to how we have done it for the past 3½ years here on MHProNews.com. Adding content is one of the many ways that we will keep visitors coming back.
Manufacturers, Retailers and Communities are all welcome to submit an appropriately decorated featured home. For more information, please click here.
We will also showcase for readers how even lower end or older mobile homes are a legitimate, value option. Over time, our featured articles, homes and videos will deal with all of the common objections that skeptical prospects and the public have. We will also update the video with a bigger, better version 2.0 of that tool, a sponsor(s) for that video update are welcome.
Just Do It
Youve asked for it. Youve got it. Now, learn to use it and run with it!
Pass the word onto your team mates and to anyone you know. Here is a starting how to use this New Business and Image Building "free" tip article. Your questions and feedback by phone or email are welcome. ##
PS: Check our many Exclusive and Red Hot Featured Articles for May and see the
other new stories at MHLivingNews.com too.
L. A. "Tony" Kovach
MHLivingNews.com=Re-Discovering and Spotlighting the MHLifeStyle
MHProNews.com = MHMSM.com = Industry News, Tips and Views Pros can Use
Services:B2BandB2CAds, Proven MH Marketing & Sales Systems, Websites other Industry Solutions.
Office –815-270-0500
latonyk@gmail.com or tony@mhmsm.com
http://www.linkedin.com/in/latonykovach= connect with me on Linkedin.
http://pinterest.com/latonyk/manufactured-home-lifestyle/
+++
Whether you think you can or whether you think you can't, you're right. – Henry Ford