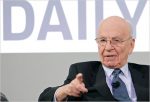 Rupert Murdoch launches "The Daily" tablet newspaper
Rupert Murdoch on Wednesday unveiled The Daily, a news app that he hopes will put his News Corporation front and center in the digital newsstand of the near future.
"New times demand new journalism," Mr. Murdoch said on stage at the Guggenheim Museum in Manhattan before an audience of reporters, employees and advertising partners. The Daily, an all-purpose publication designed solely for iPads and other tablet computers, is an emblem of that new journalism, he said, telling stories in new ways with a new brand that is unencumbered by legacy printing presses.
Read the article in the New York Times here »
---
GetResponse Users Get Access to iStockPhoto Images
Email marketing service provider GetResponse is seperating itself from the competition in a rather unique and user-centric manner – images.
The ESP just announced that it is offering 1000 email ready graphics and pictures free – available from within GetResponse accounts – thanks to a partnership with iStockPhoto.
Read the article at WebsiteMagazine here »
---
Google accuses Microsoft's Bing of 'cheating, copying' search results
SAN FRANCISCO — Google on Tuesday accused Microsoft's Bing search engine of copying its results, after running an elaborate "sting" operation that Google says caught its top search rival in the act.