At the recent Iowa Manufactured Housing Association 65th annual event, business management guru Chad Carr made a number of great points. Among them was the fact that the wise business owner who has more than just himself in his company must 'always be recruiting.' Let's look at that 'always be recruiting' concept for your sales force, management and other team member consideration.
What is recruiting?
Dictionary.com defines recruting as:
a newly enlisted or drafted member of the armed forces.

a new member of a group, organization, or the like.

a fresh supply of something.
In this case, we are focused on the second definition. The BusinessDictionary defines it this way:
The process of identifying and hiring the best-qualified candidate (from within or outside of an organization) for a job vacancy, in a most timely and cost effective manner.
Now the point that Chad made was more forward thinking. Let me bring it to life with a real world example. Recruit even when you don't have an immediate need!
An example in Always be Recruiting
Some years ago, I was doing a marketing and sales management consulting project for an RV retailer. They were already a good company, our goal was to imake them better at marketing, sales and thus increase profits. In less than 6 months. they went from the top 20 in their busy state to the top 10 out of 500 'similar' companies.
How was that accomplished?
In part through good recruiting.
We did not have any vacancy in sales. But it was obvious to me that a new spark could be helpful for a sales team that was already good, but needed to go to the next level. Against that backdrop, here is the story.
I was shopping for a new mattress, which took me to a specialty retailer. I was greeted by a gent who was obviously a true professional.
He did a fine meet and greet.

He qualified me.

He knew how to demonstrate his product based on the inputs and observations being made.

He knew how to ask for the order.
I could say more, but you get the picture. The man was terrific at what he did.
After making the purchase – a much nicer mattress than I originally had in mind – I segued into the recuriting question. Are you open to new opportunities? Short answer, "yes." I asked him to provide a resume (always do that), set up a time for an interview (always do that too). Then following that, I gave him an overview into the exciting world of the RV business.
Please note that he had no experience in 'big ticket sales' at a level beyond what he had been doing with this mattress company for many years.
In time, he was offered a job. I trained him. He rapidly became a star at towable RV sales too.
Lesson 1:
Always be looking for Talent.
Lesson 2:
They don't have to be from your industry.
Sometimes, it is easier to teach someone new to your industry than to find someone 'experienced' and get them to learn a new system. Does it take longer? Sometimes, yes. Is it worth it? Sure can be!
I could have used many examples of recruiting into MH, but wanted to share this example for a specific reason. You see, this man was African-American.
At that point in time, in a huge metropolitan market we were doing business, I knew of no other blacks in sales. About 2 or 3 months after I started him, and well into the point where he was often at or near the top of that retail center in sales, he came up to me and said,
"Tony, I've learned that I'm the only black in (name of city) selling RVs. Why didn't you say something about that on the front end?"
I smiled and we talked about it. Would it have scared him off if he knew? Wasn't what mattered that he had the skill, made the commitment to give it his best and that the combination of factors assured his success? He smiled back and agreed. Would I do that every time in a similar circumstance? Nope; that sort of thing is case by case. If I had the slightest doubt, I would have handled it differently.
Lesson 3:
People Skills and Systems
That gent – and he truly fit the term gentleman – was disc pined, friendly without being over the top, professional and used a sales process before he was taught the one I developed for that retail center. There are certain things you look for in recruiting. He had all the keys to success.
Lesson 4:
Burn the Boats!
Something else that this man had. He understood – because we discussed it during the interview – that if he left the company he had been with for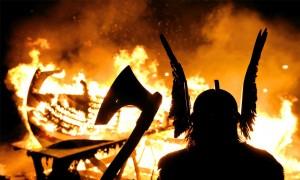 many years, there was no turning back. He had to 'burn the boats,' as William the Conqueror did when the Normans invaded England in 1066. It was victory or death for William and the Normans!
In the case of my recruit, he was a family man with bills to pay. Failure was not an option!
He knew he could make more money with us selling RVs, if, if, IF he did what was necessary. He wanted to better himself. He made the leap.
He listened, learned, did what he had to do and sold up a storm. He did his phone follow ups. He became one of the best.
Another benefit for that client of mine was this. As this new man proved that the system I was training worked, it was that much easier for the rest of the team to continue to buy into the system too!
To be candid, I've seen it backfire. But that is another story, maybe another featured article or post for another time.
The moral of the story is, always be recruiting. But always do it with a keen eye to the skills that are needed.
Lesson 5:
The Value of Real Training.
There is one more key lesson here and it was implied at the Iowa meeting by both Chad and me. It is that good training pays off. What if someone had recruited that same gent from the mattress world, and not trained him?
Last I heard, if you go to work for Best Buy, you spend two weeks in training for your product before you talk to customers, which in some departments may sell for under $20, $50, or $100 dollars.
Similarly, when you go to work for Holiday Inn, you spend 2 weeks in training before you talk to the first customer or take your first live call at the front desk. That room may start for under $100 a night, but they invest two weeks before turning a new person loose with a customer!
Personally, I do training differently than they do (not knocking them, just stating the fact. We blend training with live customer experiences).
But the point is that you have to have a formal training process. All success is predicated on a system that can be duplicated. Once you invent the light bulb – or anything else – you have to turn that knowledge into a readily repeatable system.
Always be recruiting. Always be training your new and existing team. Great athletes train every week, right along side the rookies! We need to do that too. When you do that, you will see the payoff for them and for your business unit, location and company.
Need a user friendly and customer friendly marketing, sales or training program that works when applied in today's world? Send me a message or give me a call. Check out this link for many testimonials in our MH Industry of success achieved through smarter marketing, sales, training and management systems. ##
PS: Check our many Exclusive and Red Hot Featured Articles for November and see the
other new stories and 'Purely Political' cartoons at MHLivingNews.com too.
L. A. "Tony" Kovach
MHLivingNews.com=Re-Discovering and Spotlighting the MHLifeStyle
MHProNews.com = MHMSM.com = Industry News, Tips and Views Pros can Use
Services:B2BandB2CAds, Proven MH Marketing & Sales Systems, Websites other Industry Solutions.
Office –815-270-0500
latonyk@gmail.com or tony@mhmsm.com
http://www.linkedin.com/in/latonykovach= connect with me on Linkedin.
http://pinterest.com/latonyk/manufactured-home-lifestyle/
+++
Whether you think you can or whether you think you can't, you're right. – Henry Ford