I was recently reminded of this saying by Albert Einstein: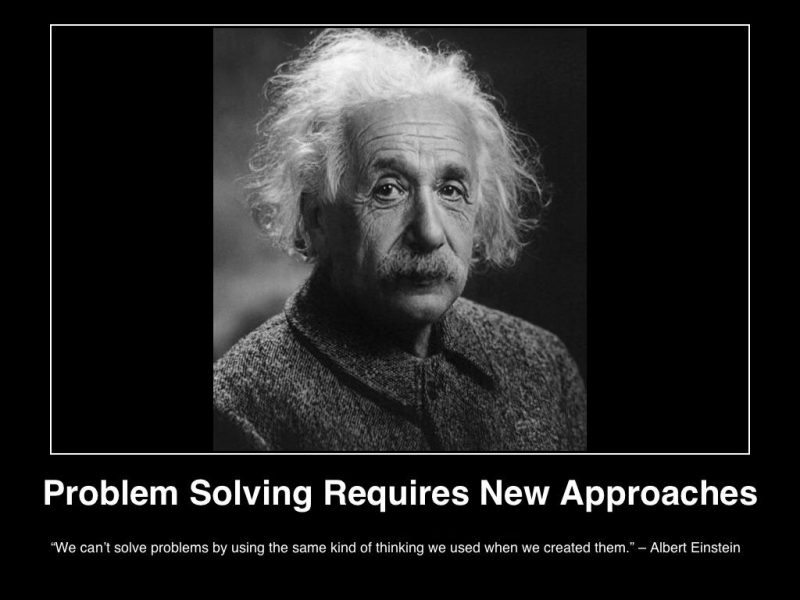 I was also reminded that some us of over the age of 40 or so may not be completely sold on the idea that the Internet is here to stay. Let me share some statistics below on Internet usage, but first let me make a simple observation.
There was a time when radio and TV where young and new. Not everyone bought a radio or TV right away. In fact, there are still millions in the world without either one. But if you would suddenly lose all of your TVs or radios, life would be quiet different, right? Do you think the fact that some don't have TV or radio keeps advertisers from using them? Of course not, you market to reach as many of those as profitably as you can!
For those "mom and pop" business owners who have no website or internet presence, and who don't use email, guess what? Odds are good that over 3/4 of your employees, customers and suppliers do. So even those who are not web savvy have customers or residents posting about you online. Odds are good that even if someone is literally blind, someone has talked to them about something they saw or read online.
Every business has an image, just as industries have an image. The smart business owner or executive wants to at least help shape the image of his/her own business.
I promised you some statistics, the first bakers dozen are courtesy of hub spot bloggers…here you go, enjoy:
1) In 2012, the audience of internet users in the U.S. will expand by 3.1% to 239 million, representing 75.6% of the total population. (Note, keep in mind that infants and some toddlers don't surf…yet).
In other words…
2) More than 3/4 of the total U.S. population will be online in 2012.
Mobile in 2012
3) Mobile internet users will reach 113.9 million in 2012, up 17.1% from 97.3 million in 2011.
4) Smartphone users will reach 106.7 million in 2012, up 18.4% from 2011.
5) In 2012, 94% of smartphones users will be mobile internet users.
6) All mobile phone users will reach 242.6 million in 2012, up 2.3% from 2011.
7) Mobile shoppers will reach 72.8 million in 2012.
8) Mobile buyers will reach 37.5 million in 2012.
9) Smartphone shoppers will reach 68.6 million in 2012.
10) Smartphone buyers will reach 36.4 million in 2012.
11) Tablet users will reach 54.8 million in 2012, up 62.8% from 33.7 million in 2011.
12) iPad users will reach 41.9 million in 2012.
13) In 2012, 76.4% of tablet users will be iPad users.
Now, looks can be deceiving. Even if someone doesn't (yet) own a computer or smart phone, some go to the library or a neighbor's home, or use one at their workplace.
A 2011 study by the National Association or Realtors said this:
Information sources used in home search:
Internet: 88%

Real estate agent: 87%

Yard sign: 55%

Open house: 45%

Newspaper ad: 30%

Home book or magazine: 19%
Actions taken as result of Internet home search:
Walked through a home viewed online: 63%
Found agent used to search/buy home: 10%
Drove by/viewed a home: 63%
NAR says that most people shop for a home for an average of 12 weeks and see inside an average of a dozen homes before buying.
Rainmaker says that many shoppers start 6 to 12 months in advance of their purchase.
I've seen another report that suggests that this 2011 number hunting their home online may be low, that it is now actually 94%.
What do such facts mean to you?
Well, it depends of course on what part of the Industry you are in. But let's say you are Business to Business (B2B). It would be hard to find a business person these days who isn't online every day at their work, emailing, surfing the web doing research, etc.
For those who are doing Business to Consumer (B2C) out reaches, you better have a good website. Perhaps you should be more than one place online, for reasons we can cover in another column. It also means that if you are marketing or advertising to home shoppers (or should be) the person who is buying from your competitor who has great web presence shopped them online an average of 3 months ago, before they purchased their home today.
Many websites have 'myth busters' or FAQs as part of their manufactured home website. There is only so much you can do in a print ad, radio or TV spot, but you can provide tons of information on your website. When someone comes to our site here, they view many pages before leaving. When your website appeals to your audience, your visitors will do the same thing too.
If you aren't using a blog, don't have a social networking strategy, have never even considered why successful realtors will have dozens of websites and hundreds – or thousands – of pages online, chances are, you are missing more business than you can possibly imagine.
The popular definition of insanity is to keep doing the same things the same way and expect a different result. Or to rephrase what Einstein said, You can't solve a problem by thinking and doing the same things the same way as before.
We've seen proper marketing and sales results climb dramatically for companies that have used the smart, cutting edge approaches we teach. that every smart business guy would say, if I could invest a dollar to make a buck fifty, they would find the dollar. Well, what if you discovered a way to make 2 or 3 dollars or more for every dollar you invested?
Why not call me for a private conversation about your marketing and sales problems, interests and needs? ##
Posted for
Tim Connor
Marketing & Sales,Website,AdvertisingMHSpeakerTrainer-Manager
MHProNews.com= The MHIndustry's#1 News, Tips and Views you can Use.
MHLivingNews.com= Free resource to enhance MH HomeOwner Satisfaction and MH Image Building
See some of our client Testimonials here
Connect with me on LinkedIn, send an invite to connect to:
You can read some of myfree business building articles on:
The Cutting Edge of Marketing and Sales Blog
Words of Wisdom Blog
Management, Sales and Inspirational columns on the MHProNews.com home page, featured articles.
To join our next Free Webinar on enhancing your Internet and other Marketing, please hit reply send me a message. Limit 12 per webinar, so questions and answers are available at the end of the session.