We've asked the questions before. Do you have a website? Is it modern looking or out dated? Does it have a blog? Do you have Facebook, Twitter and Pinterest (as a bare minimum) on your site? Let's share a true story that hopefully will open your eyes and if you heed its message, will make you more money.
A prospective new client approached us about their website. As part of their message, they sent us a report on their site's statistics, that had been given to them by their current website service provider.
What those statistics revealed was compelling, but NOT in a positive way. Their stats proved that the traffic was quite modest, plus that some 94% of their current website's visitors only came one time.
Ouch…
Further, the owner said his company was getting a very low rate of inquiries from the site.
Ouch again…
Now back to the questions.
Even if you had a good looking website, if there is nothing on there that would make a visitor think the site has new items going up routinely that might interest them, why should they come back?
Imagine if you went to a news site, and the news was the same today as 7 years ago, nothing new. Would you return?
Not likely!
Or if you went to a clothing/fashion site, and there was nothing that looked like it had changed in years, why would you go back?
Hopefully, you get the point! You wouldn't hand out a business card with an old address and phone number, nor should you have one of your most important marketing resources – your website – looking stale our outdated.
A key point here is you must add content, and make your website look dynamic and ever evolving, because a static looking site will unlikely reach it's potential.
Part of the Secret of the Success of MHProNews – and the growing traction on MHLivingNews.com – is precisely because we are adding content on a regular basis. It shows quickly to those who visit! It keeps those visitors coming back, and thus our audiences continues to grow.
Writer's, Videos and MH Photos wanted
You need to create your own content, or find someone to do content creation for you. There are individuals who like to write! There are individuals who have already written good content, and they are ready to share it.
Speaking of sharing good content…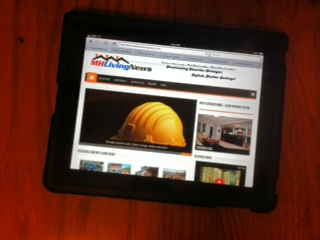 …we invite industry pros who have a topic they'd like to share for our public and image building focused MHLivingNews.com to share articles, videos and 'featured home' photos.
By teaming up with us, and giving YOUR publicly focused site an RSS feed to MHLivingNews.com and links going both ways, you will see the growth in your own results too.
Learn more at this applauded program at link, or call or email me at the contacts below.
Creating and sharing good content is how we can begin to change the image – and thus the bottom line results – of manufactured housing in your market and across the U.S.. ##