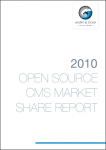 The Water and Stone 2010 Open Source CMS Market Report is now available. According to Water and Stone, "The Big Three – WordPress, Joomla! and Drupal – remain firmly in command of the market," and "WordPress has taken the lead in brand strength after a strong growth year."
What does that mean for MH manufacturers, retailers, community owners/managers and suppliers? It means they will be around for a long time to come. And that means superior support for the software your website runs on – IF you've chosen one of the market leaders.
Orange Cat offers it's clients development on the WordPress and Joomla! platforms as we feel they offer most power and flexibility in Internet marketing. Drupal is a popular alternative to Joomla! but we feel Joomla! offers our customers more options, templates and plugins and a more vibrant support community.
WordPress is the simplest of the three to administer and recent upgrades have added enough features where we can now consider using it in a wider range of customers applications.
You can download the Water and Stone 2010 Open Source CMS Market Report here.