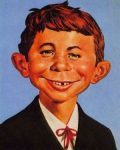 Since our own Tony Kovach wrote his blog post "'Madder than Hell!' and Manufactured Housing" it has sparked a lively debate from readers, mostly with the question, "What are we supposed to be 'madder than hell' about and what do you propose we do about it?"
The first question is "What are we supposed to be madder than hell about?"
How about HUD, "for their failure to comply with the good laws that Congress has put in place for the industry and its consumers…"?
In it's most recent Washington Update, the Manufactured Housing Association for Regulatory Reform (MHARR) points out three important areas in which HUD has failed the industry and it's consumers beginning with the need for chattel financing to be included in the FHA Title 1 Program, through proposed sprinkler standards to HUD clamping a tighter grip on the Manufactured Housing Consensus Committee (MHCC) just to name a few.
Do a little exploring of articles and blog posts (and the attached comments) here at MHMSM.com and you'll have a pretty good idea of just what should make you "madder than hell." Read and comment on the Daily Business News posts and you'll see plenty more. You'll also see a lot of good things going on with and in the industry – more on that later.
The second question is "What are we supposed to do about it?"
As we've watched the events of past few weeks unfold in North Africa and the Middle East, it has been the power of people that ruled the day. Yes, they have often been subjected to savage crackdown to the shame of their leaders, but they have removed tyrants in Egypt and Tunisia, threaten to topple more autocrats or force compromise in other countries and even have the Communist Party leadership in Beijing looking over their shoulders.
A huge part of those movements has been the peaceful motivation of large numbers of people in those countries to express their anger at conditions and their lack of a voice in their future. And they have relied extensively on New Media, such as Twitter and Facebook to communicate not just the when and where's of demonstrations, but also to spread their ideas of what should be done to affect change.
That is just what this industry needs to snap out of the lethargic state it has fallen into and to make it's will known to the Administration, Congress, state legislators and anyone in position to do something about it.
The public has to made aware of the threat to real, unsubsidized affordable housing that the depression of the Manufactured Housing industry represents. If we can motivate ourselves and motivate the masses with the idea that real American-made affordable housing in the U.S. is under threat of extinction, I believe they will respond.
A by-product of "popular engagement" would be that large numbers of the industry's future market would be made aware of the high-quality, affordable housing opportunity that Manufactured Housing offers.
How would we do this?
How do you move a mountain? One shovel at a time. It takes an effort to make a difference. But we can begin right now. The tools provided by the proliferation of Social Media is not just for starting revolutions in far off lands.
If we truly want to engage the public in a battle for survival of the industry in a manner that the "powers that be" will observe and understand, we need to put aside luddite suspicions and join the places where our customers can be found and our leaders take notice. In other words:
and to a lesser extent, LinkedIn and Tumblr.
You'll notice I've linked to every one of them. It's time to put Social Media to work for us. Here's what you do:
Go to each of the four main sites: Facebook, Twitter, YouTube and Flickr. Signup for an account. In the case of Facebook, you may want to start a "fan page" for your business once you have established a personal account.
Specifics:
Facebook: Friend your customers, friend your friends, friend anyone you know online that has a Facebook account. Friend me. Go the the MHMSM.com fan page and click the "Like" button. Aside from personal news, be sure to post everything positive that you or your business does or comes in contact with. Link to every article and blog post (start with this one) you like at MHMSM.com and every positive MH news story you run across on news and information sites as well as industry sites such as manufacturers and associations. Post pictures of new homes you install or homes you have for sale. Take every opportunity you can find to link back to your own website. Remember, you don't sell houses on Facebook – you present yourself and your product in a positive light, build relationships and then sell them when they are ready.
Twitter: Once your Twitter account is established, go to SocialOomph.com and set up an account there. Set it to automatically follow those who follow you. To see how that works, follow me and MHMSM.com on Twitter and we will automatically follow you. Whenever you are on an MH website that has a Twitter button, follow them. And post (tweet) with links back to articles on MHMSM.com or anywhere else positive information about Manufactured Housing is available. Tag every tweet (post) with "#mfdhousing" to help the world find our tweets.
YouTube: Placing videos on YouTube is a great way to get noticed. But even if you are not a budding James Cameron, you should join YouTube and search for videos that shed positive light on the industry, it's leaders and it's products. Subscribe to them on YouTube, comment on and rate their videos and link to their videos from your Facebook and Twitter account. If you do post video, make sure you tag it with keywords that indicate the industry, the manufacturer, your dealership or community and your and surrounding locales. And be sure to subscribe to the MHMSM.com YouTube Channel.
Flickr: Similar to YouTube, but mostly for still images. Don't just post photos of your family trip to see the World's Largest Ball of Twine. Post photos of your homes, your retail center, your community, etc. etc. Flickr photos rank surprisingly well in Search Engines for the keywords they are tagged with. Hint: Watermark them with your business and website URL and release them to Creative Commons and let others spread the word for you. There's a real shortage of quality MH photos for use by websites like ours – take advantage of that.
What we have here folks, is the makings of a revolution. Don't let it slip through your fingers. Yeah, it entails a little bit of work, but it can be real fun, too.
And just think, in our revolution you don't have to face down guns and thugs in the streets of Cairo, Tunis or Manama. But the change you can bring could be phenomenal.
As soon as I can, I'll make some short videos that show you how to do all of this stuff. Just don't be afraid of it. It's simple once you get the hang of it.