As we approach our 7th anniversary, let's share some comments from our 6th Anniversary, and point you to the comments posted this month from Tim Williams, at 21st Mortgage linked here.  Below is our flashback – enjoy and please send us YOUR comments for our October issue…thanks.
The following are a sampling of 'quotable quotes' used with permission from readers of MHProNews.com on the occasion of the 6th anniversary of this online trade publication serving the manufactured and modular home industry.
I appreciate being able to get all my MH news in one place, and especially on-line on my iPad as I am away from the office so often. Our industry is lucky to have such extensive coverage and I value the thoughtful coverage on a wide range of topics that MHProNews provides its readers.

Don Glisson, Jr, CEO
Triad Financial Services, Inc.
4336 Pablo Oaks Court
Jacksonville, FL  32224
Tony, congratulations to you and your team on this significant milestone and much appreciation for the valuable (and often thankless) job that you do. You have truly become the preeminent news source for the manufactured housing industry and I wish you many more years of success.

Darren Krolewski
Executive Vice President, Marketing and Business Development
Datacomp/MHVillage/JLT
Dear Tony & Soheyla, 
Congratulations on your 6th anniversary with MHProNews.Com and two years with Manufactured HomeLivingNews.com!
Just wanted to express our deep appreciation for your cutting-edge reporting and videos that keeps us positive and upbeat about our industry. You keep us focused on the great opportunities for our manufactured home industry. Keep it Up!

Gus Rodriguez
Tejas Homes
Conroe, Texas 

Tony,
Congratulations on your 6th Anniversary!
Martha Neu Smith
Executive Director
Kansas Manufactured Housing Association
Tony,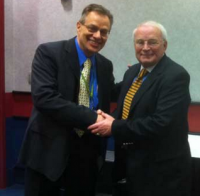 Congratulations on your 6th anniversary issues coming out this weekend. It goes with out saying that your continued diligence in pursuing a solid information source for this industry is most appreciated. I've always look forward to receiving your information so that I can keep up with what is going on. Again, congratulations on your 6th anniversary. I hope there will be many more!
Dennis Hill
Show Ways Unlimited
800 Old Roswell Lake Pkwy
Suite 140
Roswell, GA 30076
"Congratulations on your upcoming milestone.  I want to personally thank you for giving me one place for information to stay abreast of what is happening in the Manufactured Housing industry. 
Best of continued success,
Mike"

Mike Bowen
Senior National Accounts Sales Mgr/VP
American Modern Insurance Group
— Examples of Off the record, private comments —
"It's tough to capture your all-around terifficness."
"Thank you for all you do for the MH Industry."
"Tony, what MHProNews spotlights is often the squeaky wheel used or referenced in private discussions and meetings. Keep it up."
"As you know, we send periodic news tips your way, and appreciate your publishing so many of those in the Daily Business News. Matthew Silver does a fine job. You and your team are an important part of MH advancement." (Editor's note – we do get a lot of tips from readers like you on news items, please send links to news items in viaiReportMHNewsTips@mhmsm.com – with the subject line, 'News Tip')
"We work B2B, and find your Daily Business News section is a gold mine for us. We read it every day. Thank you for this invaluable service to manufactured housing."
"While we really value MHProNews, I have to say that MHLivingNews.com is the hidden gem in what your operation does for manufactured housing. We look forward to every new article and interview posted there. Those articles and videos have been used to close sales on customers that were on the fence. Thanks and please, keep them coming!"
Along the lines of MHLivingNews.com, among the nice comments in about the recent video is the following example (others are posted on the article itself that goes with the video on that page)
http://manufacturedhomelivingnews.com/a-surprising-solution-to-americas-quality-affordable-housing-crisis/
Today's new MH product is a cutting-edge solution to the myriad of financial pressures weighing on America's age 55+ active-adult demographic and addresses the critical issue of home affordability. 
Dennis Loxton, CFP
NMLS #362476
1st Financial
NMLS #130562
Comments from a variety of industry pros and leaders in 2015 are found in the link below.
http://www.mhmarketingsalesmanagement.com/home/featured-articles/october-2014/8418-manufactured-housing-professionals-news-mhpronews-5th-anniversary-celebration-kudos-and-quotable-quotes
This is team work. It isn't just us, its pros like you that engage and make this work. These are collaborative efforts for mutual success. This is part of "taking care of business," because knowledge and information are potential power.
We thank you for allowing us to be a part of the mission to dispel outdated myths and to shine the light on subjects of importance for manufactured, modular and factory built housing.
We may publish more on-and-off the record comments in the days ahead. Until then, tallyho! ##
Editor's Note: Please do send YOUR thoughts on the 7th Anniversary of MHProNews and MHLivingNews in asap, for inclusion in our Oct issue 2016 issue, thank you!