Be it business to business (B2B) or business to consumer (B2C), email marketing is a very important part of staying in touch and generating business.
Building an email list takes time, and effort. That translates into costs. But are the costs worth it?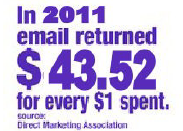 Frankly, as the it is a TOTAL no-brainer!
The Direct Marketing Association provided the statistic above, but IMHO, that is way to LOW for much of the manufactured housing industry!
Let's do some quick math. You are a retailer or MHC that sells homes. Or you are a lender, and want more good loans. One lead that 'cashes' is worth years of the modest cost for an email marketing program!
First, you hopefully are using a CRM system – please see this article by Brad Nelms on that topic –
http://MHProNews.com/home/featured-articles/june-2014/117-marketing/7683-you-your-manufactured-home-business-your-image-and-bottom-line
Next, hopefully you have a great website, if not, look here:
http://MHProNews.com/home/featured-articles/june-2014/117-marketing/7671-does-it-really-matter-who-you-use-to-build-a-manufactured-or-modular-home-industry-website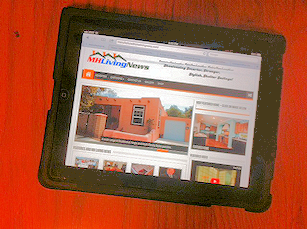 Third, with a good database/CRM nested on a good website that attracts and keeps new customers coming in, you'll get an pretty darn automated system that can keep your clients informed!
Fourth, You have to offer them something they want to know about, of course.
In our case, here at MHProNews.com, we offer Industry News, Tips and Views Pros Can Use. People have learned that using our email news updates is a time saver and keeps them informed.
Translation: our emails save and/or makes MHPros money. And it is free.
You should do something similar with your clients. Need a hand? Give us a call.

BTW. If you haven't been added to our NEW and IMPROVED emails, here is how they look, scroll all the way down the a single issue in moments, scan the headlines you like, click on the articles you like.
If you aren't on our emailed update system – many keep track of all the big and less obvious things too that are going on in MH using our emails – sign up in seconds here.
Do the math. One home sold, one site filled, one new client, could be worth years of payback. Is email marketing worth it? As they say in Wisconsin…
Youbetcha. ##

L. A. 'Tony' Kovach ManufacturedHomeLivingNews.com | MHProNews.com | Business and Public Marketing & Ads: B2B | B2C Websites, Contract Marketing & Sales Training, Consulting, Speaking: MHC-MD.com | LATonyKovach.com | Office 863-213-4090 Connect on LinkedIN: http://www.linkedin.com/in/latonykovach