Do you long for 2013 to be better than 2012, 2011, or 2010? Are you ready to do more than just wish for it? There is a simple way to improve YOUR business and our industry; so simple, it just might surprise you. It is each reach two. Let me explain and start with a real life example.
As part of a LinkedIn discussion group with home builders, I started a topic: Why is there so little positive cross-contact between on-site home builders and factory home builders? This has lead to a robust discussion, some modest clashes, but all of it good because it is drawing out perspectives that others sincerely feel and which can only be dealt with once they are heard and understood.
One of those in the group who engaged in the above noted discussion asked this: "I wonder if someone can write a topic on this and the inevitable question of if manufactured homes will ever become mainstream." Excellent question!
We have in various markets and at different times in our industry's history already been mainstream, and sadly in some markets we let that slip away. But if we merely accept the fact that others 'don't get it' about MH, then we are part of the problem and not part of the solution.
Yet the answer is so simple!
Introduce others – in a non-sales way – to the potential and reality of manufactured and modular housing. The key is the smart, light touch. Don't sell them. Show them, open their eyes.
Each reach two
We estimate there are some 250,000 professionals – owners, executives, managers, rank and file – who are involved in manufactured housing day by day. Factor in modular housing, that number swells. Now what if we applied the 80-20 rule and said that 20% of those are true leaders who care enough to grow the industry through a simple step.
That simple step is for each committed owner or professional to invite two other professionals they know OUTSIDE of the Industry to better understand MH and factory building. If each committed person would reach two, it would start that ripple in the pond effect that would grow our industry organically with only a modest investment, of mainly time. Imagine each of those two, reaching two more…and so on.
If you are still reading, you are likely to be in that 20%, so now I'm talking to YOU. Make a list of the professionals you know that you'd like to positively influence about manufactured and modular homes. Here is an idea starter for a potential list:
Realtors. Influencing an area real estate broker is a smart way to influence others they touch in the home shopping process.

Conventional builder/developer. Similar idea to the above. What if the local builder started using factory construction instead of on-site construction? What a powerful statement that would make for our Industry, and it would be a win for many builder/developers too.

Banker/Lender. Bankers are powerful centers of influence with local businesses and others in their community. Getting a banker's eyes truly opened about the benefits of manufactured or modular home would be a win for you and for others too.

Investors. Maybe you know someone who manages a pension, insurance or endowment trust fund. Or perhaps you know someone who is simply a private investor. These investor types make an ideal candidate to 'introduce them to manufactured housing opportunities.'
You don't have to stop there. Think local political or public officials, media personalities, etc.
Smart Greed
Whether you are a line worker in a factory, a community manager, a sales or leasing professional or an owner or executive in a business, you have a direct stake in your company and our industry's success. The more who respect manufactured housing, the more manufactured housing sales will be made. The more sales that are made, the greater your job security, advancement potential or profit potential. It really is that simple.
So freely sharing with others how with the appeal of our industry is a smart think to do.
Personally and locally or through others
It could be as simple as taking someone in one of those influential groups noted above out to lunch, and then bringing them to see a nicely dressed out model home. The whole interaction may just take 90 minutes to two hours.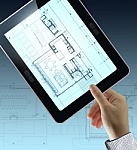 Another approach can be the one some forward thinking professionals are doing in concern with this year's Louisville Manufactured Housing Show. And that is the pre-show event that is designed to be an 'eye opener' to others not yet 'into' our Industry. It is aptly called Introduction to Manufactured Housing Opportunities Day. We call this the INTRO event.
The INTRO event is the lunch concept on steroids. Because it will be breakfast, lunch and an all day meeting with what what an industry pro called "a stellar line up!" of manufactured housing leaders and professionals. That man is already in our industry, but was so impressed with the line up, he is coming and bringing someone along too.
What Each One Reach Two could Yield
If each of those two you reached touched two more the next month and those two touched two the following and so on, at the end of a year, that initial outreach of 2 would be 4,096 people. If 50,000 pros did that in January 2013, by the end of 2013 we would have influenced through that ripple effect 204,800,000. That's virtually equal to every adult in the U.S..
Okay, granted that it wouldn't play out exactly that way! But what if 1/12 of that outcome was achieved? That would still be 17,066,666 individuals positively influenced towards manufactured housing. That's almost equal to the number of Americans who already live in MH.
The point is whatever that number would be, it is a simple way to get the ball rolling for 2013 to grow our industry anew. Growth is good for everyone involved.
Builders and Realtors would arguably benefit from having options to offer that they don't currently have.
Bankers and Investors need to know that lenders in our industry are doing well. Two of the bigger investors, Warren Buffett and Sam Zell, are doing very well indeed.
Think about the two (you don't have to limit it, but do at least two – I personally do more) you'd like to reach out to. Think about inviting them to lunch, or send them the link to
Either way, just do it. Then, get your industry colleagues or team mates to do the same.
The journey of a 1000 miles begins with one step. The first one! Make each step positive and you will be surprised at the end of the year all the good that comes from even simple efforts to advance your career, business and the industry. ##
PS: Check our many Exclusive and Red Hot Featured Articles for December and see the
other new stories at MHLivingNews.com too.
L. A. "Tony" Kovach
MHLivingNews.com=Re-Discovering and Spotlighting the MHLifeStyle
MHProNews.com = MHMSM.com = Industry News, Tips and Views Pros can Use
Services:B2BandB2CAds, Proven MH Marketing & Sales Systems, Websites other Industry Solutions.
Office –815-270-0500
latonyk@gmail.com or tony@mhmsm.com
http://www.linkedin.com/in/latonykovach= connect with me on Linkedin.
http://pinterest.com/latonyk/manufactured-home-lifestyle/
+++
Whether you think you can or whether you think you can't, you're right. – Henry Ford