A fascinating lesson for MH in marketing is coming from Donald Trump's presidential campaign. Let's set the stage by noting that The Donald is known for great: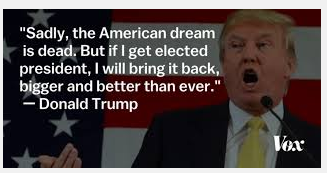 hotels, casinos, golf courses…real estate.
He's a one man brand, with clothing, etc. that bears the Trump name.
He's the author of Art of the Deal,
spent years on TV and his bold campaign claims have made him roughly double the polling of the current #2, Jeb Bush.
Bernie Goldberg recalled a conversation with Donald Trump to Fox New's Bill O'Reilly. Goldberg mused, why has Mr. Trump felt the need to be making such big, bold claims over the years?  No other billionaires are doing that, suggested Goldberg.  Bill O'Reilly nailed this one when he replied, that Trump is a marketer.
Consider Donald Trump's campaign lines like these.
I'll be the greatest jobs President that God ever created.
I'm rich, really rich.
I'll build a wall on the border and make Mexico pay for it.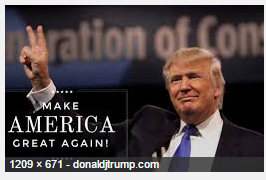 Candidate Trump has the TV talking heads…talking about him!  He gets the same or more air time then the rest of the Republican field combined.  Don't be surprised if tonight's televised debate has a huge audience, and the GOP should thank the Donald for the added energy he's bringing to the race.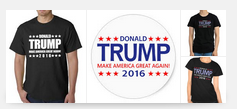 Mitt Romney has his wealth and success hung around his neck by Democrats like an albatross. By contrast, Trump has boldly made his wealth and success evidence he gets things done.  He says can do – or walk away from – good deals for America that will send China, Russia, OPEC or Iran into regroup mode. I'm rich, really, rich! is a sound bite proof he gets things done. It's snot all talk, it's all action.
This column isn't a defense or promotion of the man or his campaign, he doesn't need yours truly for that, he and his team does that just fine. Rather, this is a quick object lesson for how someone with strong negative polling numbers only a month ago has so dramatically flipped them into positives, that experts in politics have said they've never seen anything like it.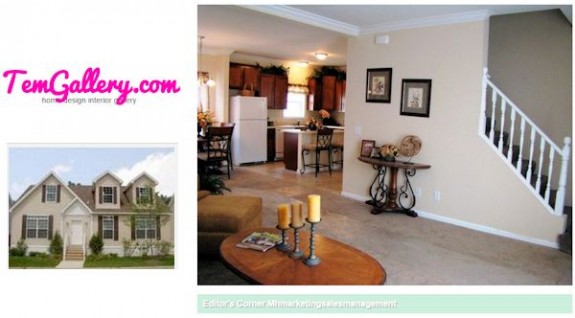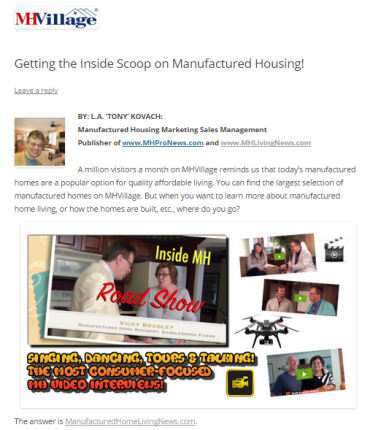 Some pundits who said Mr. Trump could never survive the comments on John McCain, or about illegals "from Mexico" before that, find they are wrong. The bolder The Donald's colors, the bigger his poll ratings, and his unfavorable/favorables reversed in a matter of only a few weeks.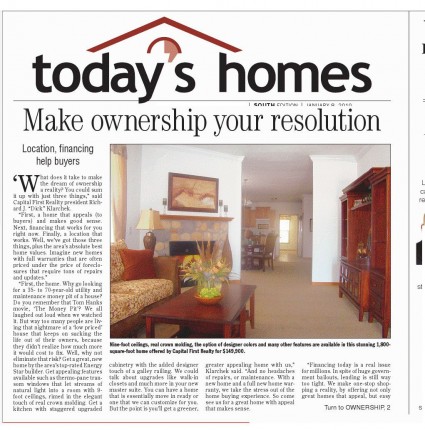 For those who say his bumper sticker slogans have no policy details or substance behind them, look out!  His book with detailed positions comes out today.  Will we be surprised if it's does well? I'd bet his book hits the New York Times, Amazon's and other best seller lists almost overnight.
Ladies and gents, my fellow MH Pros, investors, aficionados and enthusiasts, The Donald is showing you in real time just how quickly our MH Industry's fortunes could switch!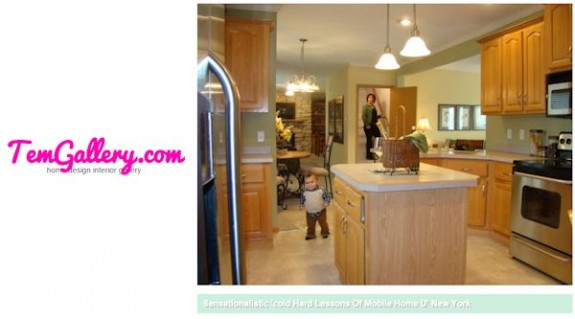 Our MH Industry has great stories to tell! We have our own 'campaign' we could mount.  With no apology, I'm asking you, YOU – why is it that so few others are standing up in public for MH – as we and those working with us do – to change the MH Image in your local markets??
Remember, it doesn't have to be a huge national campaign.  All MH sales are local, just as Tip O'Neil famously noted that all politics are local. YOUR folks and ours, teaming up with the right plan, can move the needle in YOUR market.
When enough local markets have a good MH image, the industry's national image will shine.
Improve the image, by positive market based exposure.  Don't be afraid to take a bold position, so long as you can back it up with facts, with reality.

The Donald may be changing the political landscape in ways we can't yet fully predict.  He's doing it with savvy marketing strategies.
With the right plan and effort, you can do this for MH in your market too. ##