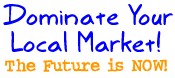 The MHMSM.com "Dominate Your Local Market" workshop presentation is coming to the Tunica Manufactured Housing Show in just a few weeks. This is the same presentation that drew rave reviews at the Louisville Show in January. Presented by MHMSM.com's own Bob Stovall and L.A. 'Tony' Kovach, several attendees rated it the best seminar of the day. If you haven't seen it, you need to. If you attended in Louisville, come and see us again. There will be a few small but powerful additions.
Here's some of what you'll learn.
Your Website
There have been a lot of changes over the past few years
Is your website up-to-date?
or has is become ineffective, or even an embarrassment
Don't have a website?
New technologies have swept much of the old aside
Are you ready for the future?
Email Marketing
Is email marketing dead?
Are you emails being delivered?
Is you email list growing?
Is your email list bring you leads?
Social Networking
The latest "must have" in online marketing
Facebook, Twitter, LinkedIn, YouTube, Flickr – which is right for you?
What the Social Networks don't want you to know
Is your Social Networking bringing you leads?
The "Dominate Your Local Market" Seminar is set for the afternoon of Thursday, March 31, 2011 at the Tunica Manufactured Housing Show. We'll get the exact time to you as soon as we have it.
For more information, see the MHMSM.com "Dominate Your Local Market" page.