There is a little fun but a real lesson here for those who do marketing, sales or leasing in the manufactured housing field. The lesson is being taught by a 7 year old, which makes it particularly interesting – and powerfully insightful! Please hang onto your hats for a fast ride, courtesy of the just completed 2014 Louisville Manufactured Housing Show.
Have a Plan
The saying, "build it and they will come" is an interesting Hollywood fairy tale. "Showing up" is NOT enough in business today. Be it Business to Business (B2B) or Business to Consumer (B2C) marketing, having a savvy plan is important.
Remember too, All professional success is based upon systems!
Think about the last fast food restaurant you walked into, or the last hotel you checked into. There are
systems that these operations have, and they teach their team members to do what the plan calls for, and when that plan is followed, success is the result.
The same is true in manufactured housing, at the wholesale – B2B – or retail – B2C – levels.
Need a plan? Call me, and let's discuss what it is that you do, and what sort of plan might make sense for you, your location or operation!
Implement the Plan with Gusto
In the example we will share today, the goal was to maximize the possible contact opportunities from the 2014 Louisville Manufactured Housing Show. The plan included a role for our son. Pre-Show, we promoted the Youngest Exhibitor, who just happens to be our son 7 year old Tamas (pronounced "Tah Mash") Kovach (pronounced Co-Vatch = like a Watch).
As we did last year at the Tunica Show, we gave our son a very simple – but important! – assignment. Pass out buisness cards to everyone that passes by our booth. We gave him a simple sentence to say – and to start with the word "Please" (good manners matters! 😉 – we agreed upon a rate of pay, but also told Tamas that good performance would yield a bonus.
Our son passed out not one box of buisness cards at the show, but over 2 boxes, solo! Yes, he earned his bonus. He was brimming with energy, and ran to nearby booths or to passers by in the corner ailes to hand out the cards.
At lunch one day, we looked around, trying to see what happened to our son. We found him busily handing out cards to people at the near by tables! Not part of the plan, but the people he approached all seemed quite delighted.
The photo below is courtesy of Gina Beasley, Tennessee Regional Manager and Ast. VP of Sales for UMH Properties.
Gina wrote in part: "Wow Tony, gotta to tell you how much I enjoyed seeing your son, he is absolutely adorable! Check out the picture of him handing out your business card to Chet Kearney, Chris Lindsey's assistant. So sweet and the fruit don't fall far from the tree!!!"
Thanks so much, Gina, for the photo and kind words. We had literaly dozens of comments from people all over the show floor, who would come up and say this or that kind thought about our son.
Mission accomplished! Tamas' Mama gets the credit for the cool clothes and so much more.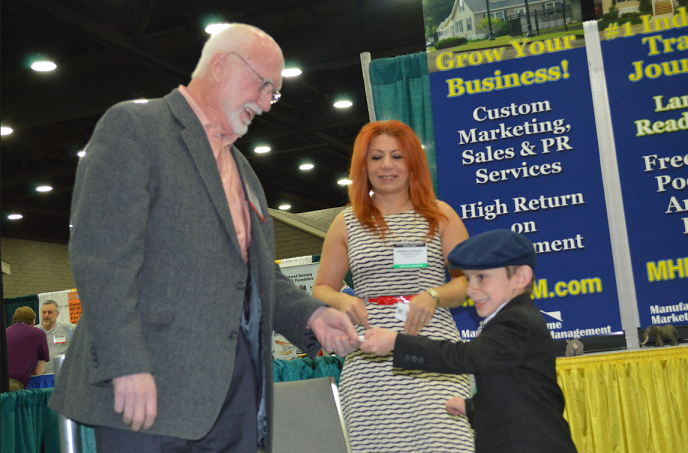 True Enthusism Makes a Difference!
Let's be objective for a few moments. Our son didn't always do exactly what we asked. What 7 year old does?
But his unbridled enthusiasm made a huge difference! Most pros would have been thrilled to have handed out half that number of cards or literature, enthuisiam made the difference for our son.
His natural smile and the joy of giving his best effort made another big difference. I'm sure Zig Ziglar would have been tickled had he seen our son in action too.
Zig used to say, 'Enthusiasm ends in the letters IASM, which means "I Am Sold Myself!"
Questions…
Are you and your team sold on your own product or service?

Are you brimming with confidence in what you are striving to accomplish?

Is the joy from your work evident to all who see you?
My son reminded me of many things during the show, including the power of enthusiasm.
Years ago a man wrote me saying words to this effect; 'Even a so-so plan, that is put to work with gusto, often yields an above average result.' Then he praised the plan that we used, and said that the great result was the combination of both good effort and a good plan.
Make a plan for your business for this quarter, this year, for all of your events and for your life.
Then break it down into the clear steps, elements of a system, just the way others businesses do.
Then do your best to implement it. Adapt as necessary.
If you love your work, your confidence and joy will shine through.
When you do, those whose paths you cross will remember you, and when they can, they will reward you with their business. Got a plan? Remember the 7 Year Old's lesson and "Go for It!" ##
(Editor's Note, our sincere thanks to Gina Beasley at UMH Properties for sharing the photo and the kind words! Hats off to all of those who pulled together and made the 2014 Louisville Show a big success.)

L. A. 'Tony' Kovach
ManufacturedHomeLivingNews.com | MHProNews.com |
Business and Public Marketing & Ads: B2B | B2C
Websites, Contract Marketing & Sales Training, Consulting, Speaking:
MHC-MD.com | LATonyKovach.com | Office 863-213-4090
Connect on LinkedIN:
http://www.linkedin.com/in/latonykovach