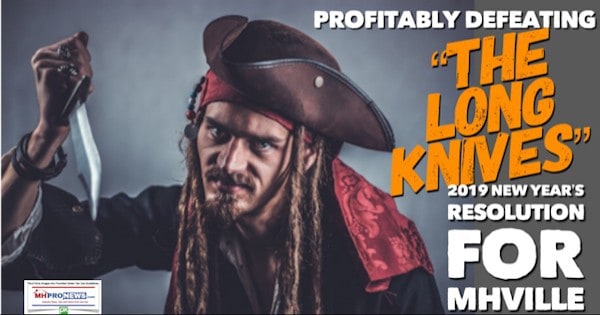 "…Tony, these guys have long knives…" read part of a message from a former, high ranking, MHI member.
Here's a longer quote from another company president.
"…See you in Louisville.  I just finished a book on [name of book withheld]. One of the sayings from that…comes to mind: "Don't give up the ship!" Tony, You are so correct about this [Arlington-Knoxville-Omaha Axis].  I always knew you were gonna get attacked.  Don't give up the ship! (or never quit-something like that)…"
Something Different in 2019 on MHProNews and for Manufactured Housing
We're going to do something different in 2019, but never think for a moment that 2018 and the prior years weren't necessary.
For those who look back, 4 years ago, we named no names of who were at the root of the industry's internal problems, we simply pointed out the problems.  Later, we began naming the names, while also citing the evidence. IMHO, these predicate steps were essential as a foundation for what comes next.
Let's start by setting tonight's table, then we'll lay out the logical next step.  By the way, we'll use a phrase once this post and the content linked from this column cover for simplicity.  We believe that the evidence suggests that the manufactured housing market has been manipulated in a fashion that violates several state and federal laws.  We will say 'alleged' to cover this topic, so that any attorney for operations based in Arlington-Knoxville-Omaha, their surrogates and allies, won't have anything they can use against us in court.
That said, use your common sense, look at the linked and provided evidence and here's the view from the Masthead.
We became a Manufactured Housing Institute (MHI) member close to a decade ago, based on the advice and encouragement of Ken Rishel and George Allen. If we at MHProNews and our affiliated operations wanted to see the industry advances, Rishel and Allen said that joining MHI was how that could best be accomplished.
Perhaps Ken and George meant well.  Maybe they didn't, I'm not going to belabor that either way.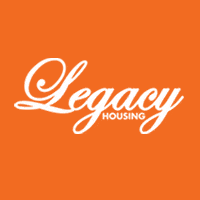 What your Masthead writer slowly learned as an MHI member, then as an elected MHI board member for their Suppliers Division is this.  The powers that be at MHI picks winners and losers. Literally. That's not just winners and losers for 'contests.' It is also for who they will support or undermine at MHI, and within the broader industry.
We believe in what we have provided evidence for these things.  So, in fairness to George we've often said that with him, one must separate wheat from chaff.  There are things that myself and every human does or has done that is chaff, and is best tossed out.  Some things you, I, or all mortals do are wheat.  Wheat properly prepared, for those whose diets permit it, is worthy of our tables.
The very people and/or organizations that we are exposing are some of the very ones that publicly praised us for some time.
Ken, George, Richard [the] 'Dick' Jennison, Jim Clayton, Tim Williams, Kevin Clayton, Darren Krolewski, and we could go down the list of those who publicly, on video, and/or in writing have praised our pro-industry, pro-growth work.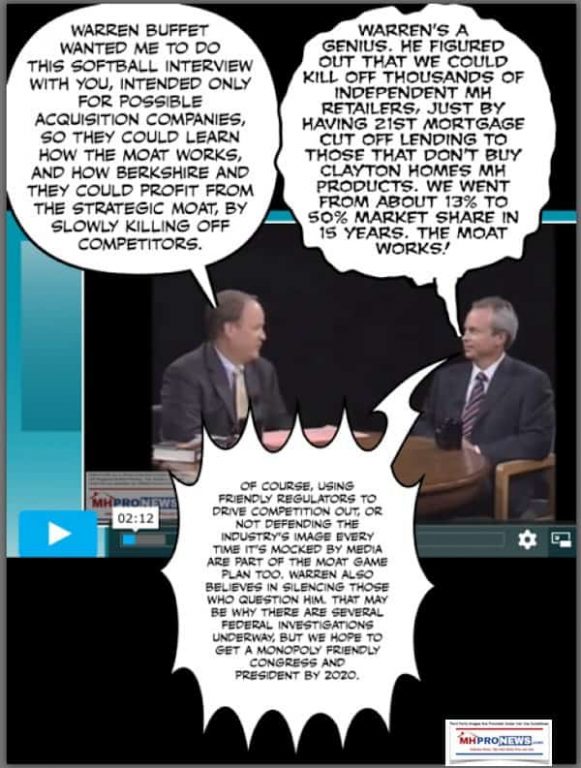 But even while some of those where praising our pro-growth efforts, there is evidence that at the same time, our operation – as a member – was being undermined by MHI, and by some of their members.  I frankly wasn't seeing it at first.
Nor is ours the only such case, as we noted some time ago that George Allen discovered that after years of membership, MHI's NCC division went into competition with him on several items that he had previously done, like his annual list of the largest community operators. Allen charges for that, MHI gives it away for free. Note too that MHI did so after negotiating with Allen about buying his assets and lists. They reportedly entered into a non-disclosure agreement (NDA), reviewed what Allen had, and 'failing' to come to terms, began to compete on some of those same 'services' that Allen rendered.
What message does that send to others in the industry, when the trade association you are a member of, suddenly becomes your competitor?
So it wasn't that I didn't have clues.  Another MHI board member told me that he didn't trust the Dick Jennison from the first time he met him. Someone connected with the Louisville Show said the same thing to me, "Tony, I wouldn't trust Dick Jennison any farther than I could throw him."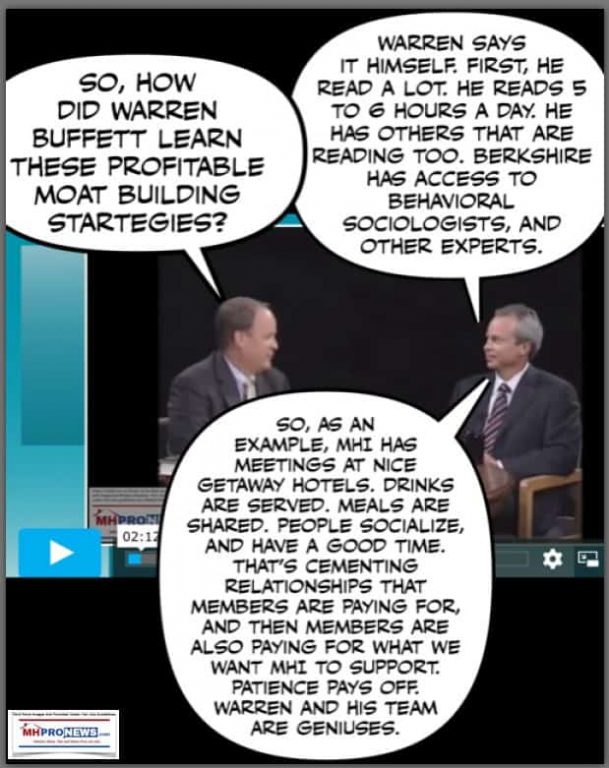 I was wrong about Jennison, they were right.
What the Arlington-Omaha-Knoxville (A-OK, but not okay) Axis do is a bunch of BS, and I'm not one to curse very often.  Tim at 21st attempted to deceive thousands of industry independents with that letter of his, posted below.
The letter was window dressing for a bold plot to put hundreds of retailers out of business.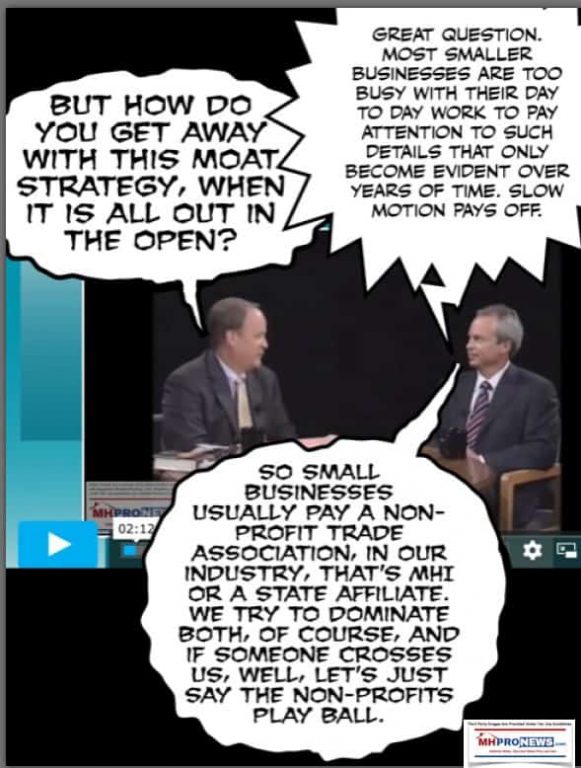 We've documented before at the links below the byline and notices that Warren Buffet, and later Kevin Clayton, each contradicted what Tim's letter claims.  They – 21st – in fact had access to what Kevin said in the video was 'plenty of money,' which Kevin said they used to buy other lenders loans plus more industry acquisitions.
So it seems apparent that Berkshire Hathaway simply didn't want to use those funds to support independents that didn't buy Clayton products or sell 21st repos.
That's a manipulation of the market. IMHO, since there were multiple parties involved, that's collusion.

Collusion – per attorneys in or familiar with antitrust law – is one of the possible triggers for antitrust action.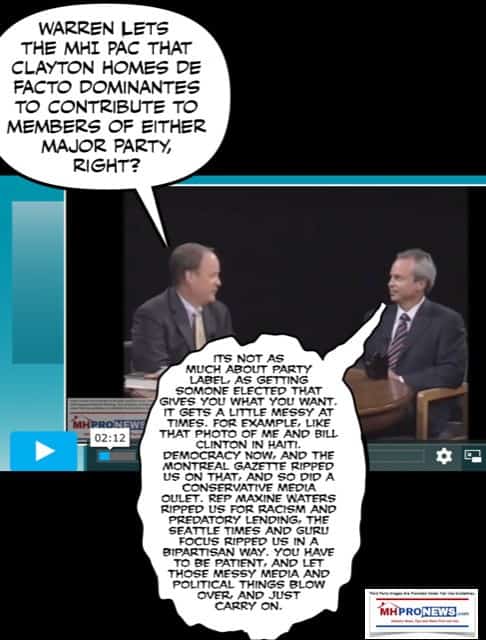 We know for a fact that federal investigators are on these matters, because I've personally spoken with some of them.
So, we don't need this mainstream news video below.  But for our growing number of new readers – that add to our already industry leading audience size – it's a placeholder and reminder that Clayton's Knoxville metro's home town media has said some of the same things we've reported.  But mainstream media normally does a story like the video posted, and then they move on. Trade media – like ourselves – can spend more time to focus on such concerns.  Industry comments – like the on near the top – and third-party data tell us that our audience eats it up.
But the purpose for doing any report isn't click-bait.  The goal or purpose is to get to the root of what holds manufactured housing back from achieving its true potential. This writer began in this industry in the early 1980s, and I've been a true believer ever since. That potential for manufactured homes is arguably in the hundreds of billions of dollars a year for several years. That's why Warren Buffet and several tech giants are keenly into factory-built housing, and/or are exploring it.
Professionals want to know.  Professionals, investors, and those outside our industry who are researching manufactured homes or factory-built housing have asked me for years a variation of the following question.
With the value so high on a HUD Code manufactured home, why isn't the industry doing much better?
It's an obvious and logical question.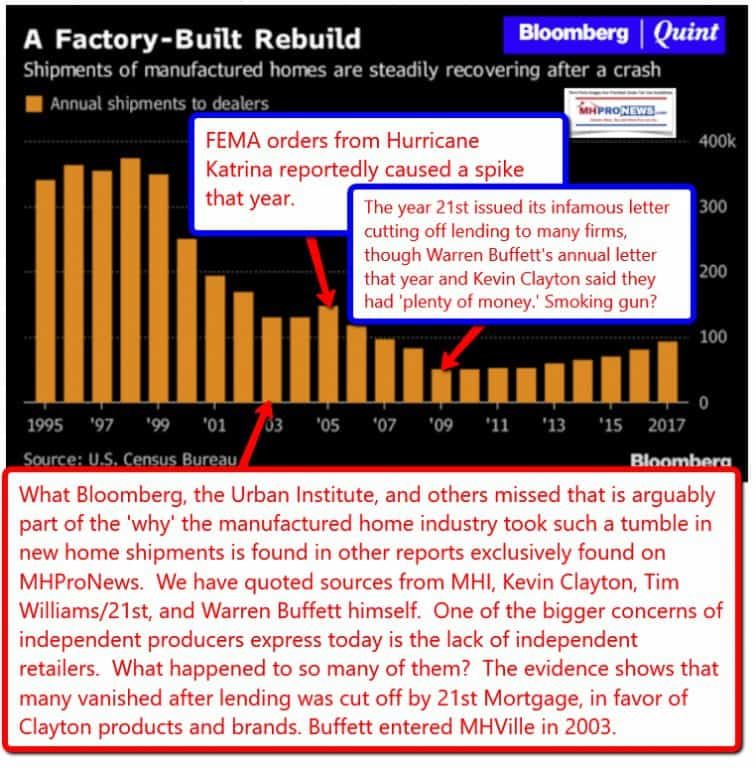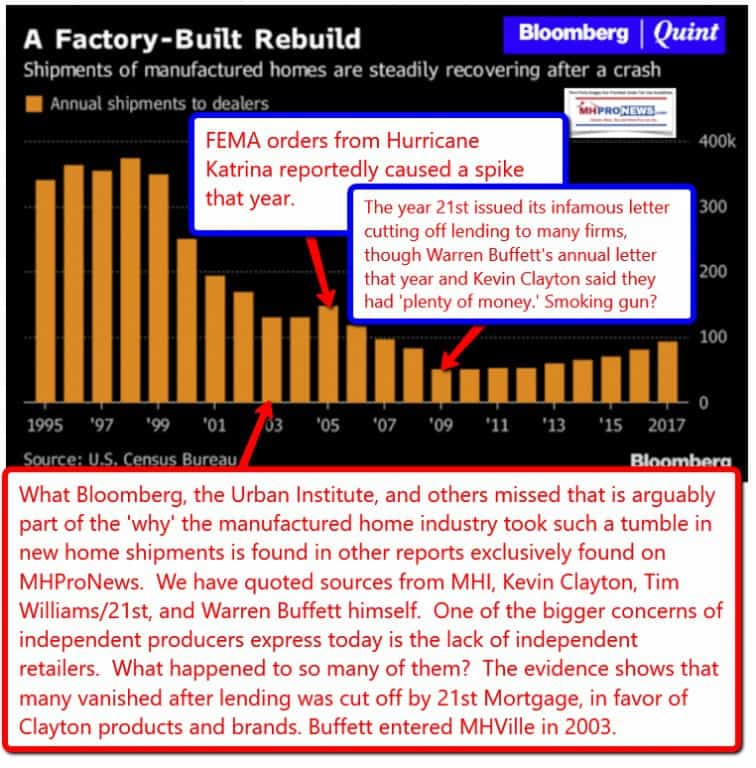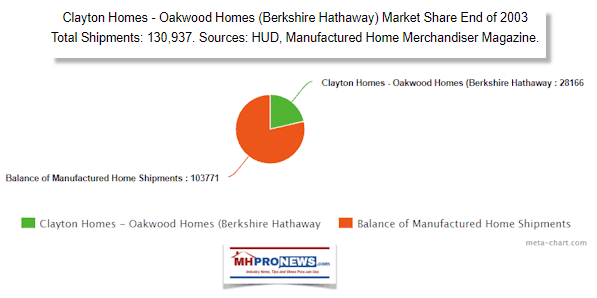 The answer, once one sees and ponders the evidence, becomes clear. Market manipulation. Or to borrow a phrase from the political left (Senator Bernie Sanders VT-I, who caucuses with Democrats) or the GOP's President Donald J. Trump, it's a "rigged system."   The rest are details and commentary.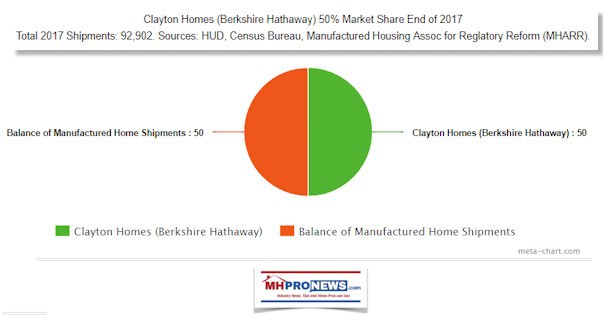 While we as an LLC are responsible for our own work product, nothing we've done in the past 3 years has been solo.  We've had thoughtful and tangible support from numerous industry professionals. The number of news tips from within Clayton, or from withing 21st, or MHI, et al are growing.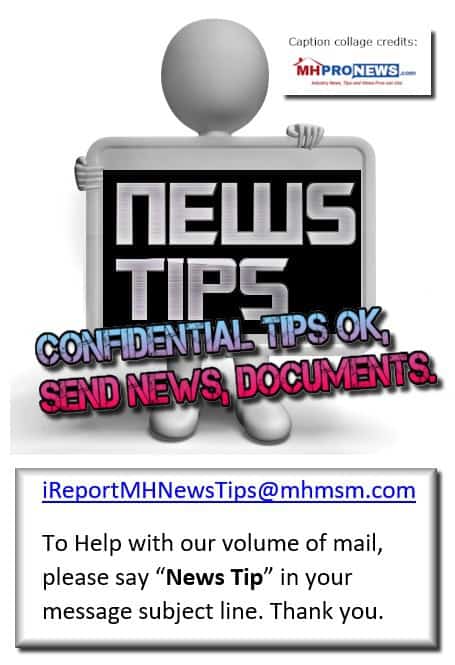 The Long Knives…
So, while MHI, their surrogates and allies have tried to:
Chase off our advertisers,
Try to cast doubts or dispersions about my personal life, character, or work,
Try intimidation tactics, from more than one attorney/law firm,
Try using part-time surrogates – like George Allen, Suzanne Felber or others – to attack or undermine us,
What they didn't do is try to refute a single allegation we've laid out.
George claims to be this big supporter of independent communities. Pardon me if I'm not buying his BS. If he cared about them as much as he cares about himself, he'd be working with us to expose this manipulators, rather than acting as their surrogate against us. Whatever MHI and the 'powers that be' are doing for Allen, I hope he enjoys it, because it arguably won't last. Some of George's followers are now also among those who send us tips.
If we were wrong about any of this, why don't Kevin, Tim, Dick, Lesli, Rick Robinson, Joe Stegmayer, Nathan Smith, or any of the others in the mix take me up on the offer of discussing this live in Louisville or Tunica in 2019? Why not do a third-party moderated discussion on stage, in front of hundreds of industry professionals? Why not do so with their ability to call witnesses or experts, and our ability to do the same?  Why not video record the whole thing? Then, why not provide that video and its content to HUD, DOJ, SEC, FTC, the U.S. Postal Service and other federal or state agencies?  We'd of course post the video, so that MHPro readers from coast to coast and from Texas into Canada could watch it for themselves.
If they had the guts and the wisdom, they'd take me up on that often extended offer in a New York minute. But IMHO, these are white-collar con-artists, being called out publicly – with evidence being provided – for their confidence job.
When Clayton team members start telling us some of what will come out in planned reports on MHProNews in the days ahead, you'll see that a number of our readers are 'getting it.' Of course, others are still pondering the matter, while some naturally back MHI. That's life.
When consumers find us on MHLivingNews and call to tell us their Clayton-21st-VMF 'tale of woe,' we listen.  It won't be long before a report on MHLivingNews will be published, and that will further set the stage for the general public on Clayton's business practices that we began laying out for the industry's professionals. Of course, we'll use all of the proper disclaimers.  Clayton won't like it, but the law arguably is on our side.  If they try a legal maneuver to stop us, we'll take it to mainstream media contacts we have already been cultivating.
Transparent vs. Opaque
We've been highly transparent, because it is the right thing to do.  A federal investigator told me that the A-OK Axis (he referred to "the Oracle of Omaha," meaning Warren Buffett) is "trying to show you that if you investigate them, that they can investigate you."
That Fed said it was a clear intimidation tactic.
I've looked in the eyes of independent community owners, retailers, producers, and others who lost their businesses, and/or others who Clayton tried to put out of business. That's their "moat strategy" in action. To me, it smacks of RICO, and the reason it does is a former prosecutor who is an attorney advise us that it looks to him like RICO.

I've spoken with attorneys in and out of MHI, and in and out of our industry. We have a working plan.  While we've been very transparent about many things, we will play a few cards later, and hold them closer to the vest.

There are several things needed for the industry to advance and for independent operations of all sizes to embrace for their own sake, if they care about the future value of their business.
1)    A new post-production association.  MHI is hopelessly corrupted, inept, lies, and has repeatedly failed our industry's consumers and professional members.  See the graphic below as but one reason why no one should logically take them seriously.  Keep in mind that MHI's own prior president, Chris Steinbert, used his exit message in the Journal to politely slap them for a string of misses and failures. So George, in saying what you have – you're either ignoring reality – and/or you are showing your true colors.
2)    As part of the above Post Production association and/or a body that works with the above, there needs to be an ADL of manufactured housing. As part of that concept:
– Every time a city, county, state, or other group tries to block the placement of a HUD Code manufactured home from being properly installed on a home site, they would get contacted by an attorney representing that 'ADL of MHVille.'
– Every time media, a researcher, or any other public figure misuses terminology or makes a claim in a manner that is inaccurate, they need to be called out first privately, and if needed, publicly by the ADL of MHVille.
– the NAACP and the ADL for years were successful with a similar approach, and that's not a commentary for or against their organizations at present.  The point is our industry needs that in order to break through to our full potential.
– We've had some MHI semi-supporters say words to the effect, 'Tony, MHI has tried a few similar things in recent months.' Of course they have, but what more have you heard about it? That's part of the MHI-MO. We published about a year or so ago that MHI didn't meet with the new acting director of the CFPB.  What was the next thing they did?  Meet with the CFPB. MHARR or MHProNews calls them out on a topic, and in time, they put up a fig leaf as cover.  It's part of the MHI con of their own members. We pushed them on image issues, what did they do?  Put up a series of videos.  A fig leaf that was so modest, that Frank Rolfe has videos that totally dwarf the number of views that MHI's 'promotional' videos do. Something similar is true for Clayton Homes.
3)    We'd encourage more members for the Manufactured Housing Association for Regulatory Reform (MHARR). Yes, they advertise with us, but so have others, including MHI. That disclosure aside, even while I was an MHI member, there were numerous times I publicly took MHARR's position on a given issue, because they were demonstrably correct.  For example, Kevin Clayton and others were in the MHI meeting room when I took MHARR's position on the fire sprinkler issue. Dozens where in that room. Kevin just looked, as he has on numerous occasions at shows or whatever when our public position differed from his. I took MHARR's side on the fire sprinkler topic, because they were correct.  By contrast, MHI's proposed position was dumb on its face, unless you see that limiting the industry is part of the Buffett-Clayton moat. Something similar could be said about MHARR and MHI on the DOE proposals.  MHARR is consistently right, while MHI is often inept, deceptive, wrong, corrupt, or whatever you want to call them.
– As a footnote to the above, we at MHProNews have no animus towards the vast majority of MHI members, they are often very fine people.  There are some on MHI's staff that would possibly be worth keeping, but some on the MHI staff are hopelessly corrupted. As with all things, Wheat and Chaff.  In my view, just as I was misled about MHI, many if not most of the current MHI members have been led down an errant path too.  We all catch on to something at a different pace, as I admitted about myself further above.
4)    Local market level marketing, and coaching in sales.  Call it a shameless plug, but we know things that Clayton Homes apparently doesn't know, or can't replicate successfully.  Clayton has purchased locations that we worked with on a consulting basis, that's interesting, isn't it?  On our consulting/business development side, we have a proven system that works on marketing and selling manufactured homes to those who are thinking about a site built housing. It is based on candor and surprising people with the truth.  It works, whenever it has been properly used.  When it is improperly used, it doesn't work.  But duh, that's true of anything else in life.
All sales are local.  All marketing in our industry ought to have a local focus.  Manufactured housing is not the RV or automotive industry.  When enough good local efforts are in motion, that will have an interstate reach.  That is how our industry will recover its greatness.  That is how manufactured homes could become a million unit a year industry, honestly and sustainably.
Don't think for a second that Clayton has their own plans to accomplish, once they've captured enough of the market and they don't think they can squeeze any more competitors out via their "Moat."
But Clayton also has an inherent conflict of interest at MHI.  They are into site building. At present, Clayton wins no matter what happens on issues such as the enforcement of the HUD Code's enhanced preemption, made law by the Manufactured Housing Improvement Act of 2000.
–      We do believe in being competitive, but we don't believe in driving others out of business.  We'll leave those underhanded tactics to George, MHI, the rest of the A-OK Axis and their surrogates.
A federal investigator told me we needed to notify local law enforcement about the issues we've been dealing with.
Words of Caution…
Some in MHVille say in their own words, 'Tony – don't talk about the ways they have come after you, that plays into their fear tactics.' Those voices may or may not be well meaning, but I respectfully disagree.  When we spotlight the A-OK Axis and their dirty tricks, they have often paused or backed off, at least on some of their tactics.
That's not to say that the time won't come when they will try to take us to court.  People can sue over almost anything in the U.S. We can't stop them from that, but they know that as soon as they do, we'll counter and seek discovery.  We get steady dribbles of information from news tips.  With discovery in litigation, there will be reems of material generated.  Even if they try to destroy some material, other material will out. There will also be witnesses that will be speaking via discovery about matters that they won't speak about otherwise.
So, if they want that legal fray, so be it.  I've told their purported attorney – Graydon Law, that asked us to 'cease and desist' has been told just how we'll deal with them and their 'clients.' Transparent.
Putting a Tail On Us?
That said, and we still haven't determined who this next person is, but law enforcement will figure it all out.  This person may or may not be connected to the A-OK axis.  The man in the car in the photo below (we've cropped off the face of the man and his license plate) was following my wife while she was biking.  A neighbor of ours spotted this "dude." That neighbor is ex-military and has another resume point I won't mention today.  But he has good vision, and will be a terrific witness if we need that someday.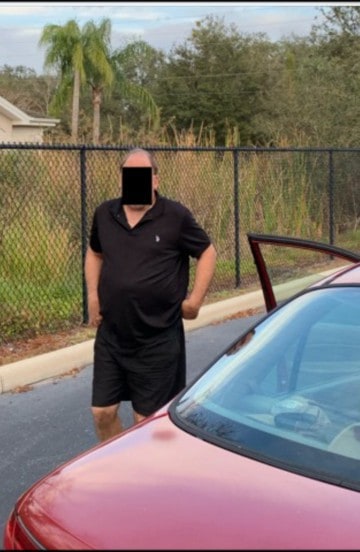 That veteran, still a younger man who is fit and has good vision, etc. told that "dude" following my better half that 'Dude, if you know what was good you' for him, 'you'll never show your face in this neighborhood or follow that woman [Soheyla Kovach] again.'
It wasn't until the next day that that neighbor caught up with my wife, Soheyla, and we all three got together for a few minutes face-to-face.  That neighbor shared the photos he took of that 'dude' and said he is happy to testify.
The two quotes from industry voices I opened with above – and others like it above – are right. The A-OK Axis have long knives. Some say they will stop and nothing, but why?
Because housing is more than a trillion dollar a year industry, and Amazon's Alexa fund has said they see a $330 billion dollar a year market for affordable housing.
That kind of money is tempting to Buffet, Kevin, Tim, or anyone else.
But the irony is that in their greed, they've put what they've done at risk.  In their greed, they've forced perhaps thousands of independents out of business and/or caused them to sell out for less.  There has already been one lawsuit against Clayton on that kind of topic.  We'll talk about that lawsuit another time.
Meeting at Louisville, Tunica…
We plan to meet with some select industry pros at Louisville, and against at Tunica.  We want that meeting to be transparent. We'll post the details before they come out.
The thrust of the working plan is this. If the A-OK Axis won't do a public discussion and/or debate, well then yours truly is happy to put on a live presentation with or without MHI, Clayton, 21st or whomever. Your Masthead writer is happy do a power point, lay out the evidence, the money trail, invite the media, and take questions live and answer them.
When we schedule and do that planned presentation, we'll even invite MHI-Clayton-Berkshire brand surrogates or team members to come.  Why? Because nothing will be more powerful or transparent than to have them ask questions, and let me answer them live.  We can video record that entire presentation. We'll post that for the industry at large.
Let's be clear.  We are going to cover a full scope of topics that impact manufactured housing.  But Frank Rolfe, who has backed off public criticism of MHI and their puppet masters, was arguably right when he said that the greater threat is from within our industry.
Let's also be clear on this.  I won't stop, our family won't stop until the last stich of this tragic rigging of manufactured housing has been fully explored, and resolved.  If I ever stop, you can bet that foul play was at work.  We've taken steps in that event too.
The greatest thing the industry's members have to fear is NOT standing up to the A-OK axis.  The data in those graphics, illustrations and videos above clearly reflect the trend lines.
If they aren't stopped, sooner or later, it will be you at some time down the road.  Why not stop them, now?
MHVille is Buffett's buffet, and the Monopolistic Housing Institute is his buffet smorgasbord. We have, are, and will publicly call them out, supply the evidence, while others are supporting us in calling them out.
We are going to reclaim what's right about manufactured housing, while rejecting all that is wrong.
That's how we're starting 2019.  That's our new years resolution.  We are going to do our part to make manufactured housing great again, greater than ever before.
How about you?  Want to join us in Louisville or Tunica?  You can use the link above or below to contact me, and we'll begin the planning and execution of the next steps. "We Provide, You Decide." © ## (News, commentary, and analysis.)
(See Related Reports, further below. Text/image boxes often are hot-linked to other reports that can be access by clicking on them. Third-party images and content are provided under fair use guidelines.)
By L.A. "Tony" Kovach – for MHProNews.com.
Tony is the multiple award-winning managing member of LifeStyle Factory Homes, LLC, the parent company to MHProNews, and MHLivingNews.com.
Office 863-213-4090 |Connect on LinkedIn:
http://www.linkedin.com/in/latonykovach
Sign Up Today!
Click here to sign up in 5 seconds for the manufactured home industry's leading – and still growing – emailed headline news updates.
Related References:
The text/image boxes below are linked to other reports, which an be accessed by clicking on them.
We are periodically asked for an executive summary of the issues that have caused the purported manipulation of the most affordable kind of permanent housing in America. What follows is that executive summary, and it will include two complimentary threads. Read the text. Then look at the illustrated cartoon-style pictures.
Day by day, people make life-changing decisions. Those choices can be for good or ill. A fact without context may have little discernible meaning. To properly understand the present, or any moment in time, one must understand what occurred previously.
" This [saying] has frequently been ascribed to Sun Tzu and once in a while to Niccol ò yet there are no distributed sources saying which was its origin before its utilization by "Michael Corleone" in The Godfather Part II (1974), composed by Mario Puzo and Francis Ford Coppola: "My dad taught me numerous things here – he educated me in this room.
The writer of the Forbes column cited and linked below is a manufactured home community owner named Brad Johnson. Johnson, not unlike RV Horizon's Frank Rolfe, misuses the terminology, perhaps for SEO or other reasons. Johnson in Forbes cites Sam Zell's Equity LifeStyle Properties or ELS.
No, not that kind of tease. An investor and industry professional wrote the Daily Business News on MHProNews recently to say in part, '.' To be VERY clear, his was a generic statement, not a specific tease 'aimed' at him, as his own message to MHProNews explained.
The United States of America (USA) is the largest economy in the world. That's what the data compiled in the infographic below from Visual Capitalist reveals. Yet, some 40 nations around the world that have a higher rate of home ownership than the U.S., per data compiled by Wikipedia.